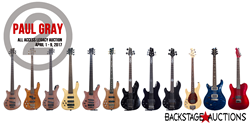 "Each of Paul's Slipknot jumpsuits has their own story to tell and represents a significant element of his career,"
Houston, TX (PRWEB) March 28, 2017
Backstage Auctions launches the online auction of founding Slipknot bassist Paul Gray's private collection. "It's truly a privilege to be hosting this event especially knowing that the auction proceeds will benefit Paul's daughter October," explains Backstage Auctions founder Jacques van Gool. The event, aptly titled "Paul Gray All Access Legacy Auction," gives fans and collectors around the world an opportunity to own an authentic piece of memorabilia direct from the one of most highly regarded bass players in the metal world.
The online auction features Paul's personal used bass guitars, amps, cabinets, gear, stage worn apparel, set lists, tour itineraries, signed items, record awards, personal passes and more. Among the many highlights is a selection of early day signature jumpsuits. "Each of Paul's Slipknot jumpsuits has their own story to tell and represents a significant element of his career," comments van Gool. "I have personally worked with Brenna Gray over the past 18 months and her final selection of items from Paul's collection truly honors his legacy.
"Trying to put my life puzzle back together after losing my husband and my best friend it's pretty challenging to say the least. The process of healing is why I decided to do this. It's more than an auction; it is sharing some of what I have of Paul, and thanking all of you for your encouragement and support. I still have a significant amount of things that will stay with me and our family forever. My five year old daughter October's first response was '...well we should write a thank you note to them!' October has a heart that's so big and loving. She has so much of him in her, and her generous optimistic nature and heart is Paul. I want him to continue to inspire and excite you all for years to come," says Brenna Gray.
The entire auction catalog can be previewed now and bidding will start on April 1 and close on April 9th, 2017 at Backstage Auctions.
Paul Gray was best known as the bassist and one of the founding members of the Grammy Award-winning metal band Slipknot. Gray passed away on May 24, 2010 and is survived by his wife Brenna and their daughter October, who was born just shortly after his death.
BACKSTAGE AUCTIONS - An online auction house specializing in authentic rock memorabilia and exclusively represents legendary musicians, entertainment professionals and entities. Every auction event is unique, reflecting the artist's legacy and chronicles their legendary career.
Website: https://www.backstageauctions.com