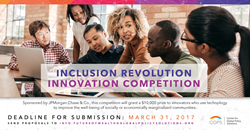 There is no question that the future of wealth lies in technology and innovation, but it is critical that we ensure that this future includes everyone. -- Maya Rockeymoore, President and CEO, Center for Global Policy Solutions
Washington, DC (PRWEB) March 27, 2017
The Center for Global Policy Solutions (CGPS) is accepting proposals for products, services, programs, or policies that help make the application of technology or the tech sector itself more inclusive and beneficial to marginalized communities. The deadline for submissions is Friday, March 31.
"The Inclusion Revolution Innovation Competition," sponsored by JPMorgan Chase & Co., will award a $10,000 prize to the innovator who proposes the best plan to diversify the tech sector or utilize technology to improve the social or economic wellbeing of women, the elderly, people of color, low-income citizens, or other traditionally marginalized communities. Information on how to submit proposals is available at bit.ly/FOWCompetition.
Last year's winner, Angel Rich, founder and CEO of WealthyLife, proposed creating a gaming app to teach kids from low-income families about money and saving.
"There is no question that the future of wealth lies in technology and innovation, but it is critical that we ensure that this future includes everyone," said Dr. Maya Rockeymoore, President and CEO of CGPS. "This competition is specifically designed to encourage technology innovators to use their talents to uplift those communities that are left behind far too often."
Selected finalists will be invited to pitch their ideas to a panel of business and startup experts in Washington, D.C., at the CGPS's 2017 Future of Wealth Summit: Technology, Inclusion and Social Change, on Friday, April 28.
For more information about the competition, visit http://2017summit.globalpolicysolutions.org/competition/.
###
Founded on the principle that a more inclusive nation is a stronger, more prosperous one, the Center for Global Policy Solutions (CGPS) is a 501(c)(3) that equips businesses and organizations with the tools to effect change and drive society toward inclusion. Drawing on our unique blend of policy and advocacy expertise, CGPS develops strategies, research, programs, policies, and communications that address disparities in health, education, and economic security by race/ethnicity, place, gender, and age.