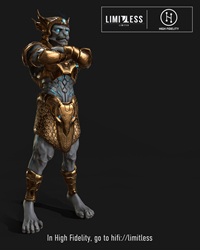 VR worlds are made more alive and believable by emotional connections to characters within them." said Philip Rosedale, CEO at High Fidelity.
BELLEVUE, WA (PRWEB) March 29, 2017
Limitless, Ltd., the leading provider of interactive character technology for virtual reality content, today announced a technology partnership with High Fidelity, a 3D virtual world creation platform founded by the creator of Second Life, Philip Rosedale. Under the agreement, Limitless will integrate its interactive character technology, part of the Limitless VR Creative Environment used to create the interactive VR short film "Gary the Gull," into the High Fidelity platform. This will enable users of High Fidelity's open source software toolset, which allows anyone to create, host, explore and interconnect shared VR environments, to create their own interactive characters.
"We continue to believe that you don't need to be an AI expert in order to create interactive characters in VR," said Limitless CEO and Founder Tom Sanocki. "High Fidelity's users are generally pro-sumers with basic technical knowledge, and range from educators to enthusiasts to professional animators. Our integration within High Fidelity further validates that our storyteller-first approach to interactive characters is ready for widespread adoption."
Limitless will provide a special High Fidelity interactive character as a tutorial and an example to new users. The Egyptian-themed character will ask the user riddles when approached, and users will be able to modify it, learn from it, and use it to make their own character. Just like in "Gary the Gull," these characters will respond to voice, gestures, and other human social cues.
"VR worlds are made more alive and believable by emotional connections to characters within them." said Philip Rosedale, CEO at High Fidelity. "We want to give people the ability to easily create interactive characters, getting as close as possible to the magical experience of having other living people in the space with you."
The Limitless platform is the only interactive character solution that is usable by the average person. Until now, AI-driven platforms required advanced engineering knowledge. We can't wait to see what content developers create using this innovative NPC character technology."
In October, Limitless announced a new cloud-based animation toolset as part of its platform, which allows rapid prototyping of animated VR content inside a virtual reality world. That technology, which is currently in trials by leading film and animation studios, is another example of the importance of making VR character creation and animation technology accessible to a broad range of users, from amateur content creators to professionals.
Pricing and Availability
The Limitless integration is now live inside High Fidelity. Basic functionality offered by the Limitless platform will be free to users of High Fidelity. Users who run their own domains in High Fidelity will have the option to purchase premium interactive character features for an additional cost.
About Limitless Ltd.
Founded in Spring 2015 and headquartered in Bellevue, WA, Limitless Ltd. is the creator of the patent-pending Limitless VR Creative Environment, which speeds the way for VR content creators to realize the true promise of real-life interactive characters in VR. Information about the Limitless VR Creative Environment can be found at http://www.vrlimitlessltd.com.
About High Fidelity
Founded in 2013 by Philip Rosedale, Freidrica Heiberger, and Ryan Karpf, High Fidelity was formed to create an open source, social virtual reality platform. Based in San Francisco, the company brought its platform of the same name to beta launch in 2016.
High Fidelity enables anyone--students, artists, makers, enthusiasts, and more--to use common formats, tools and languages to build complex interactive VR experiences and share them with others. Available for PC and Mac, it can also be run on Linux, and is available on GitHub. Features include full 3D audio, support for many different devices (Oculus Rift, Oculus Touch, HTC Vive, Razer Hydra, and more), a scriptable API, content scalability, and domain ownership.