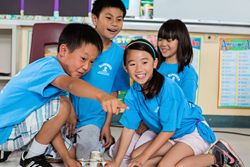 Summer@Stratford offers a balance between traditional learning, STEAM enrichment, and creative fun.
Los Angeles, Calif. (PRWEB) March 27, 2017
Keep the adventure of learning going throughout the summer with an innovative, customizable, and creative summer camp experience at Stratford School in Los Angeles and Altadena. Programs begin June 26 and center on Stratford's STEAM (science, technology, engineering, art, math) curriculum that balances visual and performing arts with traditional STEM skills.
Camp Socrates
Stratford's Camp Socrates offers a fun and engaging approach to enriched academic summer learning for children in Preschool through 5th grade. Weekly themes come to life as junior campers learn, explore and engage in imaginative camp-style activities including art, music, math, phonics, socialization, and outdoor adventures. In the Kindergarten through 5th grade programs, the day begins with team building and camp play. Sessions engage the mind with creative and interactive reading, math, and writing activities that promote critical thinking and strengthen fundamental academic skills. Camp Socrates has options for Preschool through 1st grade in Altadena and Preschool through 5th grade at the Los Angeles location. Morning, afternoon and full-day programs are available in four-week and six-week sessions.
À La Carte
Stratford's innovative à la carte program provides children with the opportunity to explore their passions and create their own learning experience with programs like Broadway Musical Theater Camp, Intensive Short Film Camp, and Destination Science. This program offers flexibility to enjoy a variety of activities.
"Children look forward to summer and a fun break from the regular school year. But, studies show that summer can take its toll with children losing skills in reading and computational math that can amount to one to three months per year," says Sherry Adams, Stratford co-founder. "Summer@Stratford offers a balance between traditional learning, STEAM enrichment, and creative fun. The ability to mix and match programs keeps children active and engaged in learning throughout the summer, maintaining their pace of learning and allowing them to hit the ground running when school resumes in the fall." (See the National Summer Learning Association for statistical details.)
Programs begin June 26. For more information, frequently asked questions, and online registration, visit https://www.stratfordschools.com/explore-programs/summer-camps.