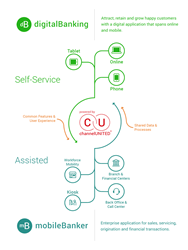 Personalized experience whether they choose to interact digitally or face to face
Charlotte, NC (PRWEB) March 29, 2017
A new solution to the persistent struggle of digital vs. in-person banking emerged late last month with the release of PurePoint™ Financial. The new hybrid digital bank is a division of MUFG Union Bank, N.A. PurePoint utilizes industry-leading Zenmonics technology to align the convenience of digital banking with the indispensable service and attention of an in-person financial center experience.
PurePoint™, a primarily digital bank with a collection of streamlined financial centers, represents a bold approach to omni-channel banking, assisted by the cross-channel agility of Zenmonics' channelUNITED® platform.
Zenmonics plays a variety of roles within PurePoint™.

channelUNITED® powers the PurePoint™ online account opening experience across online and mobile interaction points, financial centers, client support center and back office teams.
The channelUNITED® platform also enhances the in-person customer experience with a full-service banker application used on tablets in PurePoint™ Financial Centers. channelUNITED® enables frontline employees to apply the cross-channel data of the digital platform to create engaging sales and account servicing interactions.
Zenmonics also built the PurePoint™ website, providing a consistent experience across PurePoint™ digital interactions that utilizes best-in-class digital marketing capabilities.
Zenmonics-designed digital components of the PurePoint™ experience illustrate the bank's game-changing approach to the personalized customer experience. PurePoint™ offers customers the freedom to choose how they interact and guarantees the same high-quality experience in physical offices and digital channels courtesy of Zenmonics' cross-channel support.
"PurePoint's streamlined business model offers the best of both worlds," said Pierre Habis, President of PurePoint Financial. "Our customers receive market-leading rates and a personalized experience whether they choose to interact digitally or face to face at one of our financial centers. We built everything about PurePoint around that simple concept."
"We are excited to be a part of PurePoint and the powerful way it supports savers," notes Riaz Syed, CEO of Zenmonics. "channelUNITED® was designed from its inception to support tailored, seamless experiences wherever customers choose to engage. PurePoint's business model showcases the power of our capabilities."
More about channelUNITED®
Zenmonics' channelUNITED® solution is the only platform that offers a consistently satisfying experience across your institution's channels to transform every echelon of your digital experience. Other providers sell clunky packages of cobbled-together systems under the guise of "omni-channel" solutions. These providers clog the works of your organization and lack a meaningful ROI. Embrace efficiency. Cut long-term costs. Dump the technical debt of inefficient platforms.
channelUNITED® was built to adapt to your business, so we can expand at your pace - no growing pains required.
More about PurePoint™ Financial
PurePoint Financial is a division of MUFG Union Bank, N.A., a proud member of the Mitsubishi UFJ Financial Group (MUFG), one of the world's leading financial groups. As the next evolution in the financial services industry, PurePoint is the modern way to save — online, over the phone or in person. PurePoint offers market-leading CD and savings rates, no monthly fees and all the flexibility and convenience of online banking with 24/7 access from your computer, tablet or mobile devices. PurePoint also offers Financial Centers at select locations staffed by knowledgeable team members who are committed to delivering exceptional service.
For further information about Zenmonics and channelUNITED digital transformation, please visit us at Zenmonics.com.