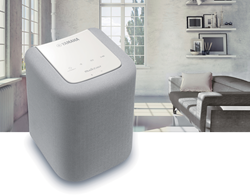 "We're excited that these fans will soon have the world of Deezer at their fingertips from MusicCast wireless audio products throughout their home. It's a match made in heaven," said Bob Goedken, Yamaha Corporation of America.
BUENA PARK, Calif. (PRWEB) March 27, 2017
Yamaha today announced that it will support Deezer on select models of the company's growing MusicCast multiroom audio ecosystem.
Owners of compatible MusicCast products who subscribe to the popular music streaming service will be able to enjoy Deezer's 43+ million songs right in their homes.
Support will first arrive before May through a firmware update for the just-announced Yamaha RX-V683, RX-V583 and RX-V483 AV receivers. In the weeks to follow, the service will roll out to other select MusicCast AV receivers, wireless speakers, sound bars, streaming amplifiers and Hi-Fi receivers.
Yamaha MusicCast will support both Deezer Premium+ (320 Kbps) and ad-supported Deezer Free platforms.
"Passionate music fans are drawn to Deezer for its enormous library and outstanding music discovery abilities," said Bob Goedken, general manager, AV division, Yamaha Corporation of America. "We're excited that these fans will soon have the world of Deezer at their fingertips from MusicCast wireless audio products throughout their home. It's a match made in heaven."
The integration of Deezer within Yamaha products will provide customers with access to the almost endless music archive that Deezer has to offer. It will also allow users to experience Deezer's signature feature, Flow, that lets users create their own personal soundtracks. Based on a unique algorithm combined with human curation, Flow learns a listener's preferences and then scours Deezer's massive music library to create a stream of music that mixes personalized recommendations and new discoveries with old favorites.
Commented Riad Hawa, vice president, hardware partnerships at Deezer, "We're excited to be expanding our reach to more home users globally, especially through Yamaha, the world's number one AV receiver brand. We are looking forward to continuing to innovate in this space with Flow at the center of our music experience."
In August 2015, Yamaha introduced its MusicCast wireless multiroom audio technology, uniting Hi-Fi and home theater with wireless multiroom simplicity. Yamaha MusicCast products range from wireless speakers to sound bars, AV receivers, streaming amplifiers and Hi-Fi receivers, offering an extremely diverse range of performance levels, price points and listening experiences from which to choose.
In addition to the new RX-V 83 Series AV receivers, Deezer will be integrated into the following current MusicCast products:
– MusicCast sound bars: YSP-5600, YSP-2700, YAS-706, YSP-1600 and
SRT-1500 (expected in May).
– MusicCast wireless speakers: WX-010 and WX-030 (expected in June).
– MusicCast wireless streaming amps, Hi-Fi receivers and powered network monitors: WXA-50, WXC-50, R-N602, R-N402 and NX-N500 (expected in July).
– MusicCast AV preamplifier CX-A5100 (expected in fall). For more information about Yamaha MusicCast, please visit http://4wrd.it/MUSICCAST
-END-
About Yamaha
Yamaha Corporation of America (YCA) is one of the largest subsidiaries of Yamaha Corporation, Japan and offers a full line of award-winning musical instruments, sound reinforcement, commercial installation and home entertainment products to the U.S. market. Products include: Yamaha acoustic, digital and hybrid pianos, portable keyboards, guitars, acoustic and electronic drums, band and orchestral instruments, marching percussion products, synthesizers, professional digital and analog audio equipment, Steinberg recording products and NEXO commercial audio products, as well as AV receivers, amplifiers, MusicCast wireless multiroom audio systems, Blu-ray/CD players, earphones, headphones, home-theater-in-a-box systems, sound bars and its exclusive line of Digital Sound Projectors. YCA markets innovative, finely crafted technology and entertainment products and musical instruments targeted to the hobbyist, education, worship, music, professional audio installation and consumer markets.
About Deezer
Deezer connects over 10 million active users around the world to over 43 million tracks. Available in more than 180 countries worldwide, Deezer gives instant access to the most diverse global music streaming catalogue on any device. Deezer is the only music streaming service with Flow, the unique mix of all your old favorites and new recommendations in one ever-changing stream. Based on an intuitive, proprietary algorithm and created by people who love music, it's the only place to hear all your music back-to-back with fresh discoveries tailored to you. Deezer is available on your favorite device, including smartphone, tablet, PC, laptop, home sound system, connected car or smart TV. Making music happen since 2007, Deezer is a privately held company, headquartered in Paris with offices in London, Berlin, Miami and around the world. Deezer is available as a free download for iPhone, iPad, Android and Windows devices or on the web at deezer.com.
For the latest news on Deezer go to http://www.Deezer.com/company/press
Contact:
Peter Giles/Giles Communications
(914) 798-7120 (pgiles(at)giles.com)