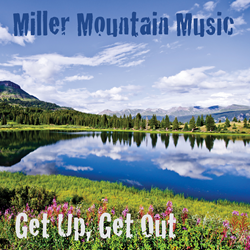 Eagle, CO (PRWEB) March 28, 2017
Matthew Miller is the creator, manager, songwriter and sole musician in Miller Mountain Music. He is an independent, country, folk, new grass, and Americana, (with a touch of the blues) artist releasing his debut album. "Get Up, Get Out" is a compilation of memories then & now, and influences in his life. It's meant for people to come together and reflect on memories of family, friends, hunting, camping, ice fishing, and more!
When not working on his music, Matthew teaches music in the Vail Valley. He enjoys teaching students how to sing, play the ukulele, guitar and piano. In his spare time, he prefers to spend his time in the outdoors with his friends and family – hiking, fishing, camping, golfing, rock climbing, mountain biking, snowboarding and Jeep driving.
Check it out at:
http://millermountainmusic.com/
https://www.facebook.com/millermountainmusic/
https://www.instagram.com/millermountainmusic/
https://www.youtube.com/channel/UCOd_n5bZOb49lIePyiWRVLA