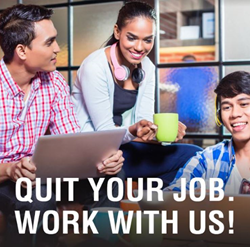 Mesa, Ariz (PRWEB) March 27, 2017
Award-winning global contact center, 24-7 Intouch, is hosting an interactive career fair on Wednesday, March 29, from 9 a.m. to 4 p.m. in Mesa. The open house hiring event includes a parking lot party atmosphere, complete with food, games and prizes for the interviewees. During the event, 24-7 Intouch is looking to interview and hire 300 customer service representatives to work with global brands, including one of the largest sports and apparel companies in the world.
"24-7 Intouch is not your typical call center. We pride ourselves on creating an innovative environment and fostering career growth among our team members," said Shelly Plett, part of 24-7 Intouch Recruiting. "We partner with some of the coolest brands in the world, and we encourage everyone who might be interested to stop by the hiring party to see what we're all about."
The 24-7 Intouch culture features dynamic workspaces and an environment that allows team members to fully immerse themselves in the client's culture and work collaboratively. 24-7 Intouch leverages new technology and innovative business ideas to take customer service to the next level.
The Hiring Party will be held at 1302 S. Country Club Drive, Mesa, AZ 85210. For more information about current job openings, call 480-586-3769 or visit, http://24-7intouch.com/Careers/.
About 24-7 Intouch
24-7 Intouch is an award-winning Global Contact Center Outsourcer that delivers innovative and value-driven customer service solutions across all industries via an omnichannel approach that includes voice, social media management, live chat, and email. With more than 17 years of experience and 13 global facilities, the 24-7 Intouch team takes pride in creating a top to bottom brand alignment for clients to create the ideal customer experience.
# # #
Media Contact: Amber Liptai | BIG YAM | aliptai(at)bigyam(dot)com | 602-327-7773