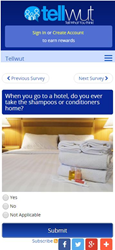 (PRWEB) March 28, 2017
Online panel members at Tellwut can now easily view and navigate Tellwut's online survey site through all devices, from desk top to tablet to mobile. All functions are easy to use, be it redeeming rewards, taking surveys and creating surveys. As Tellwutter "sy…01" said, "Have you seen the refreshing design & quality upgrade at Tellwut.com? If not, it's really nice. …. I think you will be pleasantly surprised when you see what the Tellwut Team has done to improve our survey experiences."
Tellwut is not the traditional panel company where one signs up and waits for surveys which they will most likely disqualify from. Tellwut offers its members dubbed "Tellwutters" the ability to ask questions of interest in a survey format. With Tellwut's revamped mobile responsive design members can now create a survey on the fly from their mobile or tablet while sitting on the train or watching TV from the comfort of their family room. As well as creating or just answering others surveys, members actively comment on the survey topics. Interesting and entertaining as one member put it; "Wow, this really gets you to thinking; I have asked my husband and son their thoughts on a few of these topics. We have had some excellent discussions over dinner; we have learned a little more about each other, pretty surprising. I like issues that really force me to think and be truthful!"
Researchers, students, organizations can do the same. Sometimes you need to validate a gut feeling prior to a brainstorming session the next day. At Tellwut you can quickly set up and launch your survey and watch your results roll in online while you are eating dinner. Impress your colleagues with more than just a gut feeling the next day!
"Reality is often fluid and because of this Tellwut's proprietary software along with its online respondents offer the perfect medium to use in a way that allows you to measure current reality, quickly, cost effectively and simply from wherever you are using whatever device you prefer." said Judy Morson, Founder of Tellwut. Take it from one of our clients, TC who said, "I work in the marketing industry and have been using Tellwut to assist our clients with their marketing and advertising budget decisions. It enables us to get a quick snap shot of current relevant opinions before we spend money. I often wonder where I would be without it."
About Tellwut®
Tellwut is a North American community of individuals dedicated to expressing their opinions through online surveys based upon a wide variety of topics in exchange for rewards and the Tellwut community experience. The Tellwut community and proprietary survey and reward software application provide a platform for organizations to send surveys to their stakeholders or to crowdsource and conduct online market research quickly and at a competitive price point through the use of the Tellwut survey platform and the Tellwut Community; thus allowing businesses a clearer understanding and insight into their products or services, customer attitudes and potential business opportunities.