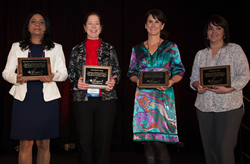 Chandler, AZ (PRWEB) March 29, 2017
The Riegelman Awards for Excellence in Public Health & Health Navigation Education in Community Colleges were presented at the League's March 2017 Innovations Conference in San Francisco, California, to four community colleges that have demonstrated excellence in planning or enhancing associate degree or certificate programs in Public Health and Health Navigation education. Award-winning program plans must be consistent with the recommendations of the Community Colleges & Public Health Final Report.
The following colleges received Riegelman Awards: Bakersfield College (CA) for its Associate Science Transfer degree in Public Health, Associate Science degree in Occupational Risk and Safety Management with a focus on Public Health, and Health Navigator/Health Educator certificate programs; Doña Ana Community College (NM) for its Health Navigator Program leading to the Associate of Public Health degree; Otero Junior College (CO) for its Community Health Worker Certificate and Associated of Applied Science degree with Health Navigator emphasis; and Queensborough Community College (NY) for its Associate of Science degree in Public Health.
In addition to letters of support from college administration, applicants for the award provided details such as the student population the program would serve, the current and projected need for program graduates, and the college's experience and capacity to house and offer the program. Applications listed partnerships, advisory groups, and articulation options, and included curricular and student services overviews, budget and enrollment projections, and costs to students. Implementation and evaluation plans were also part of the nomination packet. Applications from the award-winning colleges will be posted in the Public Health Community on the League website.
College representatives who received the awards on behalf of their institutions at the conference were Sarah Futrell Baron, Professor, Public Health Science, Bakersfield College; Amy Collins, Associate Professor, Public Health, Doña Ana Community College; Kaysie Schmidt, Faculty, Health Navigator Program, Otero Junior College; and Anuradha Srivastava, Assistant Professor, Biological Sciences and Geology, Queensborough Community College.
The Riegelman Awards are generously sponsored by Richard and Linda Riegelman and Jones & Bartlett Learning.
About the League for Innovation in the Community College
The League for Innovation in the Community College (League) is an international nonprofit organization with a mission to cultivate innovation in the community college environment. The League hosts conferences and institutes, develops print and digital resources, and leads projects and initiatives with almost 500 member colleges, 100 corporate partners, and a host of other government and nonprofit agencies in a continuing effort to advance the community college field and make a positive difference for students and communities. Information about the League and its activities is available at http://www.league.org.