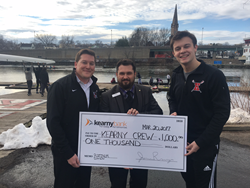 Kearny, NJ (PRWEB) March 28, 2017
The Kearny Bank Office located at 614 Kearny Avenue not only shares its name with the town where it is located, it also prides itself on being a neighbor who cares. Recently, the Bank supported Kearny HS Boys' Crew Team as a platinum contributor for the Ten Mile Row-a-thon on Passaic River.
"Supporting local schools, athletic clubs and civic organizations is not something we shy away from", Anthony DeLuca, Assistant Vice President and Kearny Bank Branch Manager said. "After all, successful business cannot exist without community connections," he added.
Kearny Bank, a federally-chartered stock savings bank, has supported the communities it serves since 1884. The Bank has assets of $ 4.5 billion and operates 42 full-service banking offices in Northern and Central New Jersey and Brooklyn and Staten Island, New York.