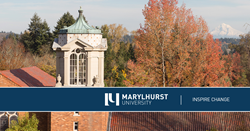 We brought together a number of really talented, knowledgeable people in the international hospitality industry to ensure our bachelor's degree program will deliver graduates prepared for the workforce.
Portland, Oregon (PRWEB) March 28, 2017
We've all heard Millennials are collecting experiences, not things, and that's one of the reasons behind the increased career opportunities in the hospitality and tourism industry. According to the U.S. Bureau of Labor Statistics, jobs for lodging managers will grow steadily at a rate of 8 percent between now and 2024, and most full-service hotel chains hire candidates with a bachelor's degree in hospitality or hotel management.
To meet the growing demand in the workforce, Marylhurst University now offers a B.A.S. or B.S. in Hospitality Management. Coursework prepares graduates in the areas of asset management, human resource development, food and beverage operations, service delivery programing and training, sales development and distribution channels, marketing application and platforms, accounting and reporting, strategic planning, financial analysis/interpretation and communications. Graduates of Marylhurst University's hospitality management program will be prepared to pursue careers with corporations within the hotel, clubs, restaurant and destination marketing industry, government and nonprofit organizations, or to start or run a small business. Students will also be prepared to pursue graduate studies if desired, such as an MBA program.
THE PEOPLE BEHIND THE NEW HOSPITALITY MANAGEMENT PROGRAM
"We brought together a number of really talented, knowledgeable people in the international hospitality industry to ensure our bachelor's degree program will deliver graduates prepared for the workforce," said Melody Rose, president of Marylhurst University.
The program development was spearheaded by a leader in the hospitality industry, John Erickson. "John came to Marylhurst as an Encore Fellow from Social Venture Partners Portland," Rose said. Social Venture Partners Portland promotes business development in nonprofit and educational organizations. John Erickson has a distinguished 30-year career in hotels, resorts, restaurants and clubs all over the United States and abroad. Past positions have included Director of Regional Operations at KemperSports, Chief Executive Officer for Grand Tradition Hotels and Resorts, Project General Manager at Seven Canyons Resort, and, most recently, General Manager of The Resort at The Mountain. Erickson is a well-respected leader in the industry with expertise in finance, marketing, operations, human resources, change management and strategic planning. He currently serves on several hospitality industry association boards and as a trustee at Mary's Woods Retirement Community.
"We knew that, in order to build a strong educational program, we'd need to draw on varied perspectives of leaders across the industry," Erickson said. To that end, Marylhurst University's program is guided by the Hospitality Management Advisory Council. The group is comprised of representatives of businesses, government associations and professional organizations across the Pacific Northwest. "Their involvement doesn't end with the launch of the program," Erickson added. "This group will continue in an advisory role, keeping us apprised of the latest developments and advancements in hospitality and tourism. That knowledge will ensure our instruction and curriculum delivers what's needed – by both our graduates and their future employers."
The members of Marylhurst University's Hospitality Management Advisory Council are:

Chris Bebo – Regional Manager, Provenance Hotel Management
Jason Brandt – CEO, Oregon Restaurant and Lodging Association
Danielle Cowan – Executive Director, Clackamas County Tourism and Cultural Affairs
Scott Cruickshank – General Manager, Metro Visitor Venues: Oregon Convention Center, Portland Expo Center, P'5 Centers for the Arts, Oregon Zoo
John Erickson – Encore Fellow
Jan Freitag – Senior Vice President of Strategic Development, Smith Travel Research
Gene Fritz – CEO, CulinaryEd Consulting
Todd Davidson – Chief Executive Officer, Travel Oregon
Chris Jaworski – Consultant in Hospitality, Tourism, Culinary Planning & Development
Jeff Miller – President, Travel Portland
Stuart Noble-Goodman – Director, Marylhurst University School of Business
Wendy Popkin – Executive Director, Oregon Restaurant and Lodging Association Education Foundation
Kenneth Puttman – Managing Director/CFO, Club Managers of Oregon
Mark Swenson – Director of Purchasing Initiatives, Bon Appetit Management Company
Scott Youngblood – General Manager, Embassy Suites Washington Square and Commissioner, Oregon Tourism Commission
MORE INFORMATION
More details about Marylhurst University's B.S. / B.A.S. in Hospitality Management can be found at marylhurst.edu/hospitality. Classes begin September 25, 2017. Anyone interested in starting this fall is encouraged to connect now with a Marylhurst admissions counselor: 503.699.6268 or admissions(at)marylhurst.edu.
ABOUT MARYLHURST UNIVERSITY
Marylhurst University, a private, nonprofit applied liberal arts and business university 10 miles south of Portland, Oregon on Highway 43, is regionally accredited and nationally recognized for innovation and academic excellence in serving students who want to complete their bachelor's degree or earn an advanced degree. Marylhurst graduates have inspired change both locally and globally since 1893. We are the university for working professionals by providing career-relevant programs both on campus and online. And as a premier university that combines the liberal arts with professional studies, we prepare graduates to be ethical leaders who think critically and creatively.