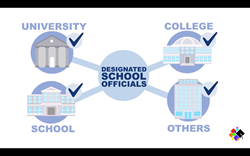 "We are delighted to bring to market a service that will help schools of all types perform better with their immigration processes" - Mitch Leventhal, Chairman, Academic Assembly
New York, NY (PRWEB) March 29, 2017
Academic Assembly, Inc., a provider of global strategic business services for educational institutions, announces today that it is launching its offering of online training courses with two new product lines: The Essential Bundle, which is designed to help institutions improve their immigration and student visa processes and performance; and the Global Alumni Relations Course, which aims to improve the engagement of an institution's network of internationally affiliated alumni. AAI Training Products
Academic Assembly's mission is to simplify the challenges of global enterprise by providing a suite of services customized to the needs of its institutional clients. With the launch of its e-learning courses, Academic Assembly is providing access to professional development courses in the field of international education of the highest quality, to those with limited time and budgets.
Created by Ron Cushing, a leading authority in the field, the Essential Bundle of USA Immigration and Visa Training Courses from Academic Assembly are a guide to becoming proficient in administering federal regulations and procedures for foreign student immigration and recruiting. This series of e-learning courses provides in-depth and up-to-the-minute insight into the various regulations, common interpretations and the best practice implementation of the duties and responsibilities of international student service officers.
Gretchen Dobson, the author of the leading texts on International Alumni Relations, has developed the Global Alumni Relations Course designed to help institutions both build and maximize their relationships with their global alumni community, which is of strategic importance to educational institutions of all sizes and descriptions.
The release of these training products comes at a time when institutions are finding it necessary to raise the level of the professional development of those on the front lines of the increasingly complex world of student and scholar visa issuance and immigration status maintenance. "We are delighted to bring to market a service that will help schools of all types perform better with their immigration processes," said Mitch Leventhal, Chairman of Academic Assembly. "International students have become a vital component to the success of institutions and we designed our Essential Bundle to guide staff in achieving better outcomes. Ultimately these students become International Alumni, who can be long-term ambassadors and supporters of the institution, if nurtured with best practices in International Alumni Relations."
Schools pay an annual license for these courses to assure they are compliant with the constantly changing state of international student processing and reporting, or to make best use of the tremendous resources that their international alumni have to offer. In addition to the individual courses, subscribing schools will also have access to a library of best practice resources, updated case studies and planning templates and join a community of like-minded professionals who themselves become a collective resource.
These two products, plus upcoming releases focusing on international student recruitment and strategic planning support Academic Assembly's mission to assist institutions in reaching their potential in the increasingly competitive global market for education.
About Academic Assembly
Academic Assembly provides solutions to educational institutions seeking to better manage and grow their global operations. Academic Assembly helps institutions manage global operations, one piece at a time, supplementing existing resources and providing a scalable approach to achieve strategic objectives. Academic Assembly's mission is to simplify the challenges of global enterprise by providing a suite of solutions customized to the needs of academic institutions, that are designed to boost institutional success. Services include professional development and training, alumni development and relations, international student recruitment, strategic planning and business services. Further information on our e-learning courses can be found on our training website AAI Training Products.