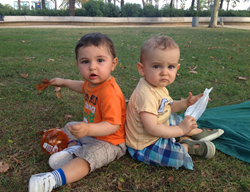 Programs overseas are very different from US surrogacy programs. They're better conceived, negotiated and managed than in the US.
(PRWEB) March 28, 2017
About 12% of women 15–44 years of age in the United States have difficulty getting pregnant or carrying a pregnancy to term. For many, gestational surrogacy is the only viable option to conceive a family. But the high cost of surrogacy often prevents couples for taking advantage of this option.
Now a new program available through Sensible Surrogacy has cut the cost of surrogacy programs in half. The program is a unique program modeled on successful surrogacy businesses from India and Thailand.
"I got into this business by managing surrogacy programs in India -- my own sons were born in India," said Bill Houghton, director of Sensible Surrogacy. "Programs overseas are very different from US surrogacy programs. They're better conceived, negotiated and managed than in the US. To make surrogacy accessible to US couples, we decided to follow that international model."
Surrogacy programs overseas start long before Intended Parents reach out to a clinic or an agent. In most cases the various service providers come together to conceive of a program that is more affordable and widely accessible. The services and prices of the program are tightly negotiated, and the surrogacy costs are strictly managed and fully transparent. The terms of these types of programs may be more rigid (Intended Parents must use the participating IVF clinic or legal resources) but the result is a basic surrogacy program that saves money for everyone.
"Sensible Surrogacy's experience overseas has taught us the value of simplicity," said Houghton. "We have helped develop and can now recommend an all-in-one package modeled after these successful services overseas." A full analysis of surrogacy costs worldwide is available on Sensible Surrogacy's website. The consulting service offers the most complete resource through its online Surrogacy Guide.
Like the overseas counterparts, the Sensible Surrogacy program includes all components of the surrogacy process. The standard budget covers all medical procedures (including the IVF, embryo transfer prenatal care and the delivery), legal contracts and filings, the surrogate mother's compensation and expenses, as well as the logistical support of the consultancy's team in the U.S. Intended Parents sign onto the entire program, and as a result save about 50% from traditional U.S. programs.
The United States is the international gold standard for surrogacy, says Houghton. Along with the Ukraine, the U.S. has the most favorable surrogacy laws worldwide. Success rates among U.S. IVF clinics are the best worldwide. Birth certificates are automatically issued with the name of the Future Parents, and children born via surrogacy agreements in the U.S. are entitled to American citizenship.
About Sensible Surrogacy:
Sensible Surrogacy is an ethical IVF & surrogacy consultancy with client support in Europe and North America. We arrange affordable, complete and experienced surrogacy services through our overseas clinics and coordinators. We have relationships with clinics in Kiev, Cancun, Los Angeles, and Mumbai. Our mission is to help couples create loving families.
Sensible Surrogacy is also the author of the Online Surrogacy Guide. The Guide is a searchable catalog of everything Intended Parents need to know about Surrogacy… from deciding if surrogacy is an appropriate option for their family, to returning home with their new baby.