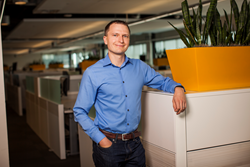 Boulder, Colorado (PRWEB) March 29, 2017
Borrowed & Blue, the wedding vendor marketplace, is announcing today that it has added Jon Gray to its Board of Directors.
Mr. Gray was hired by HomeAway, the world's leading marketplace for vacation rentals, as its first employee in 2004; since then, he has held numerous leadership roles at the firm across marketing, sales, operations, M&A, and general management. For the last two years Mr. Gray has held the position of Chief Revenue Officer, before departing the firm last month to pursue new opportunities. Founded in 2004, HomeAway raised a record $405 million in venture capital before going public in 2011. HomeAway was acquired by Expedia in 2015 for $3.9 billion.
Mr. Gray previously served on the Board of Directors at CanadaStays, and currently serves on numerous advisory boards. He also teaches MBA Entrepreneurship classes at the Acton Business School. He holds a Bachelor of Arts in Government from the University of Texas at Austin and an Acton MBA from St. Edward's University.
Mr. Gray will join Adam Healey, Borrowed & Blue's Co-founder & CEO, and Jason Mendelson, Managing Director at Foundry Group, on the Company's Board of Directors.
Borrowed & Blue announced a $7 million Series A round led by Boulder-based Foundry Group in October 2016, bringing the total raised by the Company to $10.1 million. The Company has said it will use these funds to build out its product and marketing teams, expand to the rest of the United States, and launch the world's first transactional marketplace for the wedding industry.
Every year, 2.2 million couples get married in the United States. The average couple spends $24,000 on day-of wedding vendors, making weddings a $53 billion market. However, today there exists no centralized platform for couples to get inspired, research and book their wedding vendors, and plan their weddings online.
Enter Borrowed & Blue, which calls itself The Smarter Way to Wed. Much like a 'Houzz for weddings', B&B is focused on helping couples discover vendors through their work. Every photo on the site is tagged with the relevant vendors whose work is featured, and links to more detailed information about that vendor. The Company publishes more wedding content than anyone else online, adding 300+ new weddings to its platform each week. B&B says it is already servicing millions of visitors a year, with 25,000 vendors actively using the service. The Company also has an iOS app available in the App Store.
Mr. Healey says the firm is currently hard at work on launching the first transactional marketplace for the wedding industry, so couples will be able to book their venue, photographer, planner, and all their other day-of wedding vendors on the platform.
Mr. Healey and his wife Christin launched the business in 2011, after going through the frustrating experience of discovering and vetting qualified vendors for their own wedding. Mr. Healey is a seasoned entrepreneur who brings extensive travel industry expertise to the wedding industry. He sold his previous business, hotelicopter - a hotel meta-search engine - to Roomkey, a company owned by the six largest hotel chains in the world, in 2011.
"Planning a wedding is stressful, often needlessly so. We're focused on making wedding planning a truly joyful experience, while supporting the hundreds of thousands of small business owners that help weddings come to life. We're excited about where we're leading the industry – it's time a true market leader emerged to remove the real pain points of wedding planning."
Borrowed & Blue has offices in Charlottesville, Virginia and Boulder, Colorado. In addition to Foundry Group, the Company's investors include Foxhaven Asset Management, Accomplice, Galvanize Ventures, and Service Provider Capital.
About Borrowed & Blue
Borrowed & Blue is a wedding vendor marketplace focused on helping couples imagine, plan and book the wedding of their dreams. The Company helps connect couples with wedding vendors across the United States, and has offices in Charlottesville, Virginia and Boulder, Colorado.
About Foundry Group
Foundry Group is a venture capital firm focused on making investments in early-stage information technology, Internet and software startups. Our passion is working alongside entrepreneurs to give birth to new technologies and to build those technologies into industry-leading companies. We're centrally located in Boulder, CO, but we invest in companies across North America.