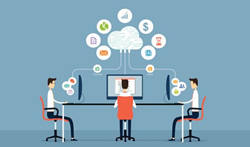 Pleasanton, CA (PRWEB) March 28, 2017
Smart ERP Solutions (SmartERP), a leading provider of enterprise resource planning (ERP) solutions and services, will host a complimentary informational webinar "Lift and Shift, Moving Your PeopleSoft On-Premise To The Cloud." This interactive one-hour event will take place on Thursday, March 30, 2017 at 10:00 PM (PST). Registration for this complimentary webinar can be accessed here.
In this webinar, attendees will learn about migrating their PeopleSoft ERP instances to the Cloud and how they can eliminate their on-premise infrastructure costs. Attendees will also find out more about maintaining a large on-premise infrastructure investment versus consuming infrastructure as a service and leveraging the key benefits of cloud computing – agility, reduced cost and scalability.
Key Takeaways:

Reducing total cost of ownership
Developing standard operating procedures for their support requirements
Regular updates to ensure compliance
Strategically utilizing the benefits of migration to address infrastructure needs
Implementation and optimization of activities around allocations, project costing, payroll, and customer portals
Stabilizing and streamlining support
About the presenters:
Raam Ramachandran, Chief Delivery Officer, SmartERP, has a diverse background in information technology, enterprise application systems and database development. Ramachandran has over 20 years of IT industry experience in product development & consulting at Oracle/PeopleSoft and professional services at Keane and was the co-founder of Citagus Software. Lynn Duffy, VP of Customer Success, SmartERP, has spent over 25 years in the IT industry working across ERP, BI and product development domains with a focus on sales, business development and consulting.
About Smart ERP Solutions
Smart ERP Solutions®, Inc. is a unique organization in the Enterprise Business Applications space providing innovative, cost-effective, and configurable on premise and cloud solutions and services that efficiently extend the capabilities of ERP systems to meet specific business process needs. Smart ERP Solutions enables clients to seamlessly integrate their people, processes, applications, and data, across an enterprise, enabling the organization to streamline its operations and support business growth.
MEDIA CONTACT
Dave Reik
Smart ERP Solutions, Inc.
+1 925 271 0200 Ext:125