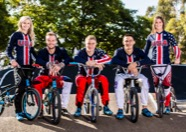 "I'm very excited to get back to the east coast and race in front of my home crowd"
Gilbert, AZ (PRWEB) March 28, 2017
USA BMX, the world's largest bicycle motocross organization, will produce stop number seven of the 2017 USA BMX National Series this weekend March 31 - April 2 in Rock Hill, SC, at The Novant Health BMX Supercross Track. Riders from around the U.S. and the globe, will meet in Rock Hill where 2,000 entries are expected for the three days of competition. Last year at the 2016 Carolina Nationals in Rock Hill, more than 1,300 riders competed from 15 different countries and 37 states. Included in the line up this year, Rock Hill will see a reunion amongst the 2016 U.S. Olympic team - Alise Post, Brooke Crain, Connor Fields, Corben Sharrah and Nic Long all scheduled to compete.
"I'm looking forward to being back in Rock Hill," said 2016 Olympic gold medalist, Connor Fields. "It's always one of my favorite tracks to race on, and I always feel the southern hospitality!'
California's Brooke Crain said: "I always love coming to Rock Hill. It's one of the best facilities we have here in the US. - track is good, facility is beautiful, people are nice and it's a great warm up as we head into the World Championships that will also be held at this track in July."
Recently crowned the Collegiate National Champion, Carolina's hometown pro Justin Posey returns to Rock Hill from Indianapolis - where he's currently finishing out his last year of college - to see his fans and race at the track he grew up on. "I'm very excited to get back to the east coast and race in front of my home crowd," Posey said about returning to his roots. "Growing up in Winston-Salem, Rock Hill was always my local track and has a special place in my heart. It will always be one of my favorite places to race, and I'm really looking forward to racing and hopefully will bring home a win for the Carolinas!"
South Carolina currently has three local BMX tracks that hold weekly races, practices, and clinics.  You can find more information on the tracks in Lexington, Rock Hill and Spartanburg by visiting each of their respective websites or http://www.usabmx.com.
Races will begin this Friday, March 31, at 2:30 p.m.; on Saturday, races begin at noon; and on Sunday, races begin at 8 a.m. 
Gates and concession stands will open earlier for practice. The three-day event is open to the public. No tickets required to enter, and parking is available for $10 per day or $25 for a weekend pass.
For details on this weekend's event and the upcoming UCI BMX World Championships that will also be held in Rock Hill, July 25 - 30, 2017, log on to http://www.rockhillSCbmx.com.  
Contact:
Katie Moses Swope
USA BMX
katie(at)usabmx(dot)com
310-339-4552
Laurie Helms
City of Rock Hill
laurie.helms(at)cityofrockhill(dot)com
803-329-5655
###
Media should check in at the USA BMX registration trailer and get a media vest if shooting video or pictures. The USA BMX staff will work with you if necessary to find riders or others for interviews.
About USA BMX
Founded in 1977, the American Bicycle Association (ABA) is the world's largest BMX racing organization with over 70,000 members racing at more than 300 sanctioned tracks across North America. United States operations are conducted under the brand USA BMX and Canadian operations are known as BMX Canada. For more information visit http://www.usabmx.com.
About Novant Health BMX Supercross Track
Modeled after the 2008 Beijing Olympic track, the Novant Health BMX Supercross Track is designed for speed with a 35-foot initial elite jump, asphalt turns for acceleration, and a breathtaking berm jump directly over the amateur track. Its unique surface delivers smooth, dust-free racing in all weather conditions, day and night. Located in the Riverwalk community of Rock Hill, SC, the track is owned, operated and maintained by the City of Rock Hill Parks, Recreation and Tourism department, and offers open practices, rider development and races throughout the year. For a full schedule visit novanthealthbmx.com.