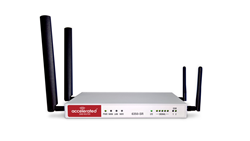 The Accelerated SR series offers the fastest cellular speeds commercially available from any and all major wireless carriers
Las Vegas, NV (PRWEB) March 29, 2017
Accelerated will present its latest lineup of business-grade LTE networking equipment at the Digital Signage Expo (DSE) in Las Vegas – booth #1344 at the Las Vegas Convention Center – on March 29th and 30th. Mark Savage will lead the Accelerated team that will demonstrate how clients can benefit from always-available wireless data access to quickly roll out affordable, cloud-managed network connections virtually anywhere.
By leveraging 4G technologies, digital signage providers and operators gain a distinct time-to-market advantage over competitors who opt for wireline solutions such as fiber or DSL. "We are excited to meet with clients and show off our brand-new SR-Series router that supports LTE Advanced," Savage said. "It offers the fastest cellular speeds commercially available from any and all major wireless carriers."
Digital signage solutions from Accelerated are built for businesses to be affordable and support the latest 4G standards, allowing content providers to quickly refresh their digital media. Accelerated invites attendees to stop by booth #1344 at DSE to find out how business can benefit from the Accelerated Advantage.
ABOUT ACCELERATED
Accelerated is a hardware designer and manufacturer specializing in cellular (LTE) networking equipment. Its initiatives – both OEM and commercial – include the ongoing development of the Accelerated View™ cloud management platform, enterprise VPN gateways, as well as an ever expanding line of LTE routers and network appliances for primary or backup connectivity (business continuity). Providing the backbone for failover and M2M/IoT solutions, Accelerated equipment delivers serviceable internet access to areas with limited broadband availability. These devices can be configured, monitored, and maintained remotely using Accelerated View, granting unrivaled control to network administrators and the organizations they support. Accelerated Concepts, Inc. is a privately held company founded in 2006 with headquarters in Tampa, Florida, and offices in Chicago, Illinois and Brisbane, Australia. Visit accelerated.com for more information.