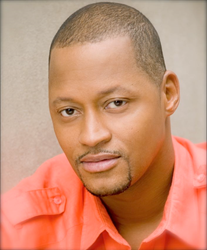 Lorenzo will be instrumental in establishing a presence for the show in Miami and we are thrilled to have him as a member of our team, said Denise Naughton, Executive Producer of Celebrity Page.
New York, NY (PRWEB) March 28, 2017
Celebrity Page welcomes veteran radio and television personality Lorenzo "Ice Tea" Thomas, formerly of WEDR-FM 99 JAMZ (Miami) and Black Entertainment Television (BET) as its newest contributing television correspondent. Thomas brings years of experience to the nationally syndicated entertainment lifestyle show, available in 98% of US households. He has interviewed some of the biggest names in entertainment such as Kevin Hart, Jay-Z, Beyoncé, Will Smith, and even former President Barack Obama.
Mr. Thomas became the Director of Business Development at Outspoken Media Group in August of 2016. Outspoken Media Group and Celebrity Page are partnering on multicultural entertainment stories. The show is based in New York City with offices in Los Angeles and Las Vegas. Celebrity Page works with a number of magazines such as The Hollywood Reporter, Shape, Martha Stewart Weddings, Rachael Ray Every Day, Better Homes & Gardens, and Bella New York in order to promote the magazine cover stories to their television audience. The show also provides red carpet media coverage for TV Guide.
"We are pleased to be working with Celebrity Page and able to contribute to the continued success of the program," said Terry L. Cyrus, Founder and CEO of Outspoken Media Group. "Lorenzo will be instrumental in establishing a presence for the show in Miami and we are thrilled to have him as a member of our team," said Denise Naughton, Executive Producer of Celebrity Page.
Lorenzo will provide viewers with the latest entertainment news and exclusive celebrity interviews. Celebrity Page airs in New York (WABC), Los Angeles (KCAL), Chicago (WCUU), and other key media markets nationwide. "I'm extremely excited to begin the next chapter of my career that will allow me to showcase my talent on My TV 33 in Miami as well as in national television syndication," said Mr. Thomas. He has been a staple in the entertainment industry for over 15 years and brings invaluable expertise to Celebrity Page. Lorenzo is also a Miami Film School graduate and a SAG-AFTRA actor. In addition, he is the CEO and Program Director of the Nielsen BDS reporting Live from the Mia digital radio station that serves listeners worldwide. Lorenzo's website ranks among the top 150,000 websites in the USA, according to Alexa.com. Thomas will be based in Miami, where he has an extensive following from his 11-year career as an afternoon on-air radio personality.
About Outspoken Media Group
Outspoken Media Group is a full-service entertainment and multicultural marketing company based in New York City. The Company builds memorable and results-driven marketing campaigns for entertainment and lifestyle brands. It is a minority-owned and operated business, and has been providing solutions for clients since 2004. Outspoken Media Group develops customized marketing strategies that authentically engage African American millennials. For over 10 years, the Company has been able to successfully influence consumers, garner awareness, and increase bottom line profits for clients. Outspoken Media Group specializes in experiential marketing, branded entertainment, creative development, digital & social media, public relations, and brand strategy. For more information, please visit http://www.outspokenmedia.net.
For Outspoken Media Group media inquiries: info(at)outspokenmedia(dot)net
About Celebrity Page
Celebrity Page is an American syndicated entertainment lifestyle show. The series premiered on September 9, 2013. The program broadcasts several times daily on the cable network Reelz. The series focuses on pop culture, celebrity interviews, entertainment news, and lifestyle stories. The program is co-hosted by Sonia Isabelle and Jaymes Vaughan. The New York segments are anchored by Isabelle, the West Coast segments are covered by Vaughan.
###