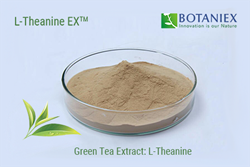 The Green Tea L-Theanine manufactured by Botaniex with its patented technology is an excellent option for the functional beverage for relaxing and reliving stress
Changsha, Hunan Province (PRWEB) April 03, 2017
Botaniex Inc. is proud to announce that its invention patent for a state-of-the-art L-Theanine extraction technology was finally approved by the Intellectual Property Office of PR, China. The patent, No. ZL 2015 1 0578407.7, is the latest in a series of innovations brought to market by Botaniex which enables manufacturers of supplement and functional beverages to include high quality yet cost-effective natural ingredients into their products. This new extraction method for L-Theanine allows the biotechnology company to produce natural L-Thenanine from green tea leaves at purities of up to 90% — far exceeding that of the industry standard. The new process is also optimized for a higher yield, which reduces the unit cost of production therefore making it easier (and cheaper) than ever for companies to include this wonderful natural ingredient into the dietary supplements and functional beverages.
As it is well known, L-Theanine is a naturally occurring component of green tea leaves and is responsible for the relaxing effect felt after drinking the tea. The ingredient is an amino-acid analogue that can enter the brain, binding to receptors that improve mood, relieve stress, regulate sleep, and even increase cognitive performance. L-Theanine also directly promotes the production alpha-waves which are brain waves present during relaxed states such as meditation. Other benefits of L-Theanine are still under active research, but it shows promise in controlling blood pressure and protecting the brain from effects of aging. These unique benefits have prompted the widespread adoption of the extract as a key component within supplements and functional beverages. Manufacturers of these products can now purchase higher quality yet cost-effective L-Thenanine extract from Botaniex.
The state-of-the-art technologies employed in this innovative extraction process include: Superfiltration, Electrodialysis, and Vacuum Concentration. Superfiltration uses ceramic filters with nano-scale pores to filter out large molecular contaminants from the earlier green tea extraction process. Electrodialysis uses an applied electric current and membrane to remove any traces of inorganic salts present in the extraction solution. Vacuum Concentration promotes the evaporation of our de-ionized water solvent and ensures that the final extract is obtained with the highest possible yield. The combination of the three technologies optimizes the production of an ultra-pure, yet economical extract that is suitable for direct incorporation into supplements and beverages.
Botaniex offers a variety of purity levels which can be customized based on individual client needs with purities between 10-90%. Botaniex looks forward to collaborating with manufacturers to incorporate its L-Theanine into their products and is committed to the continual improvement and refinement of its innovative extraction processes to better serve its customers/partners.
About Botaniex
Botaniex is a market-oriented and research-driven manufacturer and supplier of natural ingredients (botanical extracts/herbal extracts and herbal formulations) for the Industries of Dietary Supplements, Functional Foods, Functional Beverages, Cosmetics and Pharmaceuticals. Its strong R&D team is dedicated to development of the new natural ingredients and the herbal formulations focusing on men's health and women's health. In addition, both the advanced equipment and sophisticated technology are employed to produce the high quality and customized botanical extracts and herbal formula. The company also provides customers with value added services such as Private Labels, Contract Manufacturing, and etc.
For more information, please visit http://www.botaniex.com or send an email to sales(at)botaniex(dot)com
Contact Information
1-403#, Building A4, Lu-Valley Compark,
27 Wenxuan Road,
Lu-Valley High-Tech Development District,
Changsha, Hunan Province, China 410205
Tel: (86)731 88718666
Fax: (86)731 88888299
E-mail: sales(at)botaniex(dot)com
Web: http://www.botaniex.com