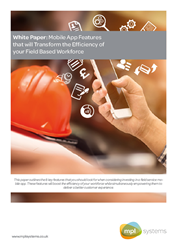 (PRWEB UK) 30 March 2017
In an age dictated by fierce competition and autonomous consumers with reduced loyalty, getting the mobile solution for field technicians is key to boost efficiency, transform the customer experience and increase operational efficiency.
This whitepaper outlines 8 simple features that should be looked for when considering investing in a field service mobile app. These features will boost efficiency of the workforce, while simultaneously empowering them to deliver a better customer experience.
Whether a Service Manager considering a first investment, or an upgrade for existing software, this paper will discuss 8 value adding functionalities, beyond the basic, for the mobile app that should be considered as essentials in today's market.
Trusted by many of Europe's top field service organisations to transform customer experience, mplsystems' service management solution was positioned in Gartner's latest Magic Quadrant for Customer Engagement. Specialising in configuring end-to-end solutions around an individual organisations' requirements, mplsystems' pioneering scheduling & dispatch software enables responsive optimisation of field technicians and predictive maintenance using IoT and other real-time feeds.
Get in touch to find out how mplsystems mobile apps could transform your field based teams.