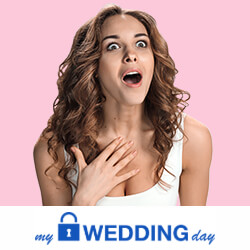 The First Wedding Photo Album for your TV. Enjoy your beautiful photos the way they meant to be enjoyed.
New York, NY (PRWEB) March 30, 2017
MyWeddingDay.com announced the launch of a conceptually new online service - Wedding Photo Albums. It is the first easy to use service that allows non-technical people to create beautiful digital wedding photo albums that can be viewed on virtually any screen including 4K TVs in a matter of minutes. The service organically grew from a DIY project to a full-blown service.
The news is a big deal because it is the first digital service that lets you see your beautiful professionally done, and very expensive, wedding photos the way they are meant to be viewed – on a large screen or 4K television set. MyWeddingDay.com automatically optimizes all images before they are viewed on large screen TVs. All images are conformed to utilize the benefits of the latest screen-casting devices such as Apple TV, Google Chromecast, and Microsoft Wireless Display Adapter.
"It's so easy – a grandma can do it" – is the tagline that says it all. This is the first service specifically designed for the regular non-internet and non-technical person. Anyone can open an account and start creating beautiful and inexpensive wedding photo albums, all on their own in just minutes. Once the album is created, it can be immediately shared with family, friends, and the rest of the World.
The words that pop up in mind when you see your newly created wedding album on a large screen or TV are "awesome" and "fresh". The albums also look amazing on the smaller size devices such as note books and desktop computers. "What you see in the first release is just the beginning. The company has a lot of awesome features in the pipeline. I guarantee you will be blown away when you see the new additions that will be released soon," said the spokesperson for the company.
MyWeddingDay.com allows its consumers to create photo albums with virtually unlimited number of photos for every wedding related event. Be bold and create your very own digital photo album for Engagement Parties, Bridal Showers, Bachelorette Parties, Bachelors' Parties, Wedding Receptions, Wedding Parties, Honeymoons, Wedding Anniversaries and everything in between.
The STORY: The first Digital Wedding Album was created by a very talented young programmer who promised his wife that she would be able to view the wedding album on a large screen TV. He guaranteed it would look clean & trendy. When the album was completed it looked amazing. Finally, the young family was able to share their wedding day photos with family and friends. The album looked great, and everyone wanted one for themselves too. At first it was just family and friends, followed by friends' of friends, and eventually grew into a full-blown service. This is the story of how a little DIY project turned into a full-blown service for everyone to use.
For more information go to: https://www.myweddingday.com