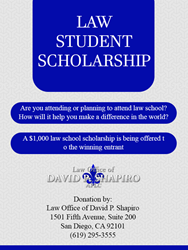 San Diego, California (PRWEB) April 20, 2017
The Law Office of David P. Shapiro is offering a scholarship for the benefit of an individual who wishes to pursue his or her legal education. Recognizing that obtaining a law degree is a costly journey, the firm is offering the scholarship in the form of tuition assistance in the sum of $1,000.
Obtaining a law degree is a time-consuming and arduous process. It generally takes three years to obtain a degree if you attend law school full-time and longer if you are a part-time or an evening student. It is difficult enough to support oneself financially during this time, even without having to pay tuition. Accordingly, Mr. Shapiro is offering the scholarship so that it will ease (at least to some degree) the financial burden on the successful applicant.
United States citizens who attend a law school accredited by the American Bar Association (or who expect to attend in the near future) are eligible to apply for the scholarship.
If you would like to apply for the scholarship, or if you are interested in learning more about it, please visit the firm's website. Information concerning the law student scholarship, the application itself, our privacy policy, and the selection of the winning applicant, is contained on the website. The deadline for applying is February 2, 2018.
Additional questions about the scholarship and/or the application should be sent, preferably by email, to:
The Law Office of David P. Shapiro
1501 5th Ave #200
San Diego, CA 92101
619-295-3555
michael(at)davidpshapirolaw.com