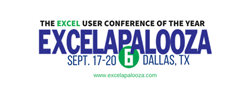 "Over the last six years, we've set the bar high by calling it the 'No.1 Excel-based user conference' and this year, our sixth event, we intend to surpass it."
Dallas, TX (PRWEB) March 28, 2017
BizNet Software, a pioneer in Microsoft Excel cloud reporting and business intelligence solutions, has announced former U.S. Mint Director Edmund Moy as keynote speaker for Excelapalooza® 2017.
Discounted "early bird" registration for the sixth annual Microsoft Excel training and user conference is now open at http://www.excelapalooza.com. Cost is $1,250 through May 31, when the regular price of $1,450 takes effect. The conference is scheduled Sept. 17-20 at the Dallas/Plano Marriott Legacy Town Center.
"The purpose of Excelapalooza is to bring together like-minded professionals from all over the world who recognize and appreciate the power of Microsoft Excel and its importance to our brand," said BizNet Software Founder and CEO George McMann. "Over the last six years, we've set the bar high by calling it the 'No.1 Excel-based user conference' and this year, our sixth event, we intend to surpass it."
Attendees can earn up to 22 Continuing Professional Education (CPE) credits and enjoy a catered breakfast and lunch daily. Complimentary evening events are scheduled for Sunday, September 17 at Mexican Sugar, and Tuesday, September 19 at Top Golf in Dallas.
Moy was nominated as U.S. Mint Director during the President George H. W. Bush administration and served until 2011. He is now the chief strategist for California-based Fortress Gold Group and a writer for Moneynews.com.
Moy and McMann headline an impressive group of speakers including Lawrence "Mac" McClelland, MBS, JD, associate of K2 Enterprises; and Bill "MrExcel" Jelen, founder of Mr.Excel.com. Sessions will range from reporting tips and tricks, analysis skills and insight into BizNet Software's suite of software products.
About BizNet Software
BizNet Software®, Inc. delivers self-service business intelligence and reporting solutions in Microsoft Excel. The company's BizInsight Suite provides a simple, drag-and-drop environment for business reporting and analysis. BizNet automates Excel-based business reporting, offering users the ability to quickly create their own reusable, custom tables and formulas while also dramatically simplifying the distribution of essential documents. Founded in 1996, BizNet Software is endorsed by more than 100 partners and 15+ software publishers. The company's products are used in more than 2,500 organizations worldwide, representing an estimated 25,000 users. Microsoft® and Excel® are either registered trademarks or trademarks of Microsoft Corporation in the United States and/or other countries. For more information, visit http://www.biznetsoftware.com.