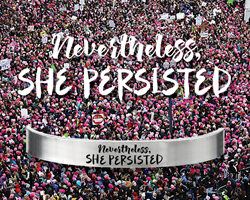 "Nevertheless, She Persisted"
Canoga Park, California (PRWEB) March 29, 2017
"Nevertheless, she persisted" - You have heard it. Maybe you were not aware of its origin. When Sen. Mitch McConnell uttered those words about Sen. Elizatbeth Warren he did not know it would trigger a virtual storm of tweets, retweets and women adopting it as their own. In fact, it has become so popular that Chelsea Clinton wrote a new book, "She Persisted," which features 13 American women who have overcome adversity. In addition, it was decided yesterday the "Fearless Girl" statue, which was erected the eve of International Women's Day will now remain for another year on Wall Street where she is staring down the bull.
Women persist every day in thousands of different ways.Whitney Howard Designs wants women everywhere to be reminded they are strong and they persist, despite whatever challenges or obstacles stand in their way; The creation of the Quotable Cuff "Nevertheless, She Persisted" helps women to never forget their strength. All they have to do is look down at their wrist to remember.
Women are strong. Every day women are doing what some would say is impossible. Whether it's breaking new barriers, accomplishing new tasks, raising families with odds stacked against them or fighting illness, the Quotable Cuff from Whitney Howard Designs, Inc. is a reminder of the fortitude of women. Just like the "Fearless Girl" statue who is now persisting on Wall Street, women have persisted, women persist and women will persist.