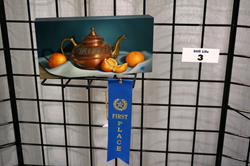 "Our Art Show gives professional, experienced and beginner painters the unique opportunity to showcase their talents together while competing only with artists of comparable skill levels." - Wendy Watson ADP, Art Show Coordinator
Wichita, KS (PRWEB) March 29, 2017
Artists of all skill levels are invited to submit artwork to the Society of Decorative Painters' (SDP) 2017 Art Show Exhibition. The Art Show will take place May 19-20, 2017, as part of Oceans of Color, the 45th Annual SDP International Conference & Expo, at the world-class Ocean Center in Daytona Beach, FL. The deadline for entries is April 14.
"Participating in an art show like ours is a great opportunity for an artist to get recognized for his/her talents and peer feedback about his/her work," says Wendy Watson ADP, Art Show Coordinator. "Our Art Show gives professional, experienced and beginner painters the unique opportunity to showcase their talents together while competing only with artists of comparable skill levels."
There are three divisions an individual can enter. An individual may only enter one division.

Beginner/Student Division: A person who has two years or less painting experience.
Non-Professional Division: A person who paints for fun, does not teach or sell artwork professionally, and is not a Teacher of Decorative Art (TDA), Accredited Decorative Painter (ADP), Certified Decorative Artist (CDA), or Master Decorative Artist (MDA), or any other certification, and has never entered the Professional category.
Professional Division: A person who teaches, sells, publishes in the art field, or is certified by SDP or any other organizations in any particular style, including TDA, ADP, CDA, and MDA.
There are 10 categories within each division: Animals, Floral, Folk Art, Landscapes/Seascapes, Mixed Media, Original Design, People/Portraits, Seasonal/Holiday, Still Life, and Strokework. An individual may enter more than one category within his/her division.
Expo attendees will vote to award the Art Show's three recognitions: People's Choice in the Professional Category; People's Choice in the Non-Professional Category; and Best in Show. The winner of Best in Show will win a cash prize of $50.
The fee to participate is $25 for the first entry and $5 for each additional category entered. Artwork entered must be an individual's own work. An individual may only submit artwork of another artist's design if the individual obtained that artist's permission.
In addition to the Art Show, Oceans of Color will feature a conference with more than 60 painting classes and a two-day expo of painting industry vendors. The expo will be open to conference registrants on Friday, May 19 starting at 9am and to the general public starting at 11am, and to all individuals on Saturday, May 20 from 9am to 4pm. Vendors currently signed up to exhibit are Bear With Us, The Brush Guys, Brushes & More, Colored Pencil Artist, Cupboard Distributing, DecoArt, Dynasty Designer, FM Brush, Gayle's Art Enterprises, JB Wood, Judy Westegaard CDA, Just Us, J.W. Etc, The Magic Brush, Marlene's Folk Art, Painting World Magazine, Plaid, Rol Publications, Scharff Brushes, Stampendous, Tricia's Legacy Designs, and Turtle Hollow Artists.
Individuals can download the entry form by visiting http://decorativepainters.org/downloads/Art_Show_Form.pdf and submit their completed entry form with payment by mail to: Society of Decorative Painters, Attn: Sheryl Born, 1220 E. First St., Wichita, KS 67214; or contact Sheryl Born at Sheryl(at)decorativepainters(dot)org or (316) 269-9300 extension 119. For more information about Oceans of Color, visit http://www.decorativepainters.org.
ABOUT THE SOCIETY OF DECORATIVE PAINTERS
SDP is a global community for painters and aspiring artists to share ideas, develop skills and participate in a fun creative environment. SDP recognizes diversity and excellence in all styles of painting. SDP has more than 200 affiliated chapters all over the world that actively promote the art form through community service projects and painting-related activities. SDP publishes the industry's leading decorative painting magazine, The Decorative Painter, and hosts one of the largest annual painting conferences and expos that draws worldwide artists. For more information, visit http://www.decorativepainters.org