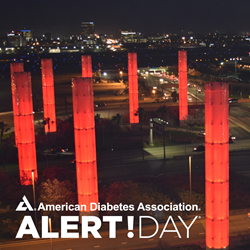 On Alert Day, Americans are urged to take the risk test and start living a healthy and active lifestyle to prevent or delay the onset of Type 2 diabetes.
Los Angeles, CA (PRWEB) March 28, 2017
Tuesday, March 28, 2017, is the annual American Diabetes Association Alert Day, a "wake-up call" asking the American public to take the Diabetes Risk Test to find out if they are at risk for developing Type 2 diabetes. In recognition of the event, the Los Angeles World Airports will light up the evening sky by programming the LAX pylons the color red. Downtown's U.S. Bank Tower Crown Lights will also be illuminated red to bring awareness to Alert Day.
Last year's release of a UCLA health study discovered that 55% of California adults have either diabetes or pre-diabetes, the latter being a condition in which blood glucose (sugar) levels are higher than normal but not high enough to be considered Type 2 diabetes.
While the estimate for people with this condition – 9% of the adult population (1 in 11 adults) – was well known and documented, researchers calculated the number of adults with prediabetes to be 46% (up from previous estimates of 33%) or nearly 1 in 2 adults.
"Equally as concerning is the fact that these numbers do not include pediatric statistics," said Cynthia E. Muñoz, PhD, MPH, pediatric psychologist with Children's Hospital Los Angeles, assistant professor of clinical pediatrics at the University of Southern California Keck School of Medicine, and president of the Community Leadership Board for the American Diabetes Association, Los Angeles. "The Association reports that the number of teens diagnosed with prediabetes and Type 2 diabetes is growing, and being overweight is this group's number one risk factor."
With more than 86 million people living with prediabetes, most of whom are unaware, it's important for individuals to take one minute to protect their health.
On Alert Day, Americans are urged to take the risk test and to start living a healthy and active lifestyle to prevent or delay the onset of Type 2 diabetes.
Diabetes is a serious condition that strikes nearly 30 million Americans including 1 in 10 people living in and around Los Angeles. A quarter of those affected by diabetes, or nearly 3 million Angelenos, are not aware that they have the condition. Recent estimates project that as many as one in three American adults will have diabetes in 2050 unless we take the steps to Stop Diabetes®.
Unfortunately, diagnosis often comes seven to 10 years after the onset of the condition, after disabling and even deadly complications have had time to develop. Therefore, early diagnosis is critical to successful treatment and delaying or preventing some of its complications, such as heart disease, blindness, kidney disease, stroke, amputation and death.
The primary risk factors for Type 2 diabetes are being overweight, sedentary, over the age of 45 and having a family history of diabetes. African Americans, Hispanics/Latinos, Native Americans, Asian Americans and Pacific Islanders are at an increased risk for developing the condition.
Early intervention via lifestyle changes, such as weight loss and increased physical activity, can help delay or prevent the onset of Type 2 diabetes.
With the right steps, prediabetes can be reversed. "Studies have shown that Type 2 diabetes can be prevented or delayed by losing just 7% of body weight (such as 15 pounds for those weighing 200 pounds) through regular physical activity (30 minutes a day, five days a week) and healthy eating. The key is to find out early whether someone is at risk or not," said Muñoz.
To help people better recognize their own risk for Type 2 diabetes, the American Diabetes Association provides the Diabetes Risk Test asking users to answer simple questions about weight, age, family history and other potential risks for prediabetes or Type 2 diabetes. Preventive tips are provided for everyone who takes the test, including encouraging those at high risk to talk with their health care provider.
To participate in the movement to Stop Diabetes, people can get their free Diabetes Risk Test (English or Spanish), as well as information about Type 2 diabetes, by visiting at diabetes.org/alert. For information on programs for all types of diabetes in the Los Angeles area, contact the American Diabetes Association at 323.966.2890 or by calling 1-800-DIABETES (1-800-342-2383). http://www.Diabetes.org
ABOUT THE AMERICAN DIABETES ASSOCIATION
The American Diabetes Association is leading the fight to Stop Diabetes and its deadly consequences and fighting for those affected by diabetes. The Association funds research to prevent, cure and manage diabetes; delivers services to hundreds of communities; provides objective and credible information; and gives voice to those denied their rights because of diabetes. Founded in 1940, our mission is to prevent and cure diabetes and to improve the lives of all people affected by diabetes. For more information please call the American Diabetes Association at 1-800-DIABETES (1-800-342-2383) or visit http://www.diabetes.org. Information from both these sources is available in English and Spanish. Find the Los Angeles office on Facebook (adalosangeles), Twitter (@ada_losangeles) and Instagram (@adalosangeles).
MEDIA CONTACT:
Teresa Todd, Point of View Communications
661.257.4440 (o) | 661.510.1908 (m)
ttodd(at)povpr(dot)com