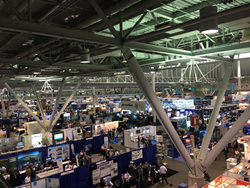 Charlotte, NC (PRWEB) March 29, 2017
noax Technologies Corp., a leading German manufacturer of industrial PCs, recently attended the Seafood Expo North America / Seafood Processing North America show on March 19-21, 2017 which was held at Boston Convention and Exhibition Center in Boston, Massachusetts.
Seafood Expo North America / Seafood Processing North America is the largest seafood marketplace event in North America. Over 1,200 exhibiting companies from 40 countries attracted attendees from all over the world. The three day event showcased products related to the seafood and seafood processing industries while allowing for key industry leaders to meet face-to-face, display products, discuss relevant trends, and enjoy unlimited seafood! noax Technologies Corp. is proud to be yearly exhibitor for this event.
noax Technologies unveiled the S21WP industrial PC for the first time at the show. Categorized with noax's Steel Series line of industrial PCs, the new S21WP features a revolutionized design and PCAP touch technology warranting it truly unique. The state-of-the-art IPC features a hardened, IP69K display with multi-touch functionality. The S21WP is available for Hygienic and Production applications – ideal in challenging industrial conditions.