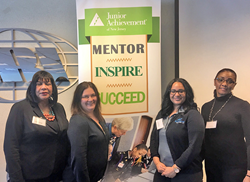 Suitland, Maryland (PRWEB) April 04, 2017
Andrews Federal Credit Union's Christina Nixon, Millicent Armstrong, Jennifer Fiore and Mona Harris recently served as table coaches for 80 high school students during the Junior Achievement of New Jersey's 3rd Annual South Jersey Mentorship Forum held in Mt. Laurel.
"Junior Achievement is a great program," said Andrews Federal's Mona Harris. "On behalf of all of my colleagues who participated in this wonderful event, it was a privilege to share our time, talent and knowledge with the youth."
The event, hosted by Automotive Resources International (ARI) and sponsored by South Jersey Industries, included leaders from various industries, 1-on-1 mentor sessions involving Junior Achievement's Career Success® lesson on the "Four Cs", and concluded with students sharing their key takeaways. The day proved to be inspirational, motivational and even emotional.
About Andrews Federal Credit Union
Andrews Federal Credit Union was founded in 1948 to serve the needs of military and civilian personnel by providing a vast array of financial products and services. With over $1.4 billion in assets, Andrews Federal has grown to serve more than 120,000 members in the District of Columbia, Joint Base Andrews (MD), Springfield, Virginia (VA), Joint Base McGuire-Dix-Lakehurst (NJ), and military installations in central Germany, Belgium, and the Netherlands. In addition, the Credit Union serves as a financial partner with many select employee groups in Maryland, the District of Columbia, Virginia and New Jersey.
To learn more about Andrews Federal Credit Union and its community involvement, or to become a member, call 800.487.5500 or visit http://www.andrewsfcu.org.