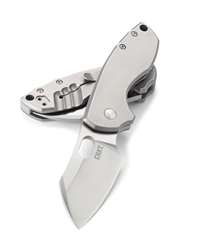 (PRWEB) March 30, 2017
Inspired by the fjords out his back window and the spirit of adventure, Voxnaes created the Pilar™, and named it after Ernest Hemingway's beloved sailboat — the 38-foot long vessel that he used for renegade surveillance of German U-boats during WWII in Caribbean waters. The world-famous author was also a WWI combat vet, big-game hunter, sailor, and fisherman, and certainly would have selected an everyday knife companion like the Pilar™ for his daily endeavors. This super compact 2.4" blade is stamped out of stainless steel and features a strong satin finish. It's built to go where it's owner goes — which in Voxnaes' mind is everywhere.
The compact, beautiful handle is created of the same stainless steel aesthetic effect. A first-finger notch is carved out at the head of the handle, both for upping the grip security, and making room for the large thumb slot. Swift blade deployment comes standard. Even when wearing thick gloves on high seas.
The modern Hemingway is the ultimate Renaissance man, and the Pilar™ is the knife that will stand up to the challenge.
The Pilar™ manufacturer's suggested retail price is $39.99
Link to Product Information Page:
https://www.crkt.com/pilar.html
PRODUCT SPECIFICATIONS
PILAR™
SKU: 5311
Blade: Length: 2.402" (61.0 mm)
Edge: Plain Steel: 8Cr13MoV
Finish: Satin
Thickness: 0.145" (3.6 mm)
Closed: 3.530" (89.6 mm)
Weight: 4.2 oz. (119.0 g)
Handle: Stainless Steel
Style: Folding Knife w/Frame Lock
Founded in 1994, CRKT® is the industry's premier brand of knives, tools, and lifestyle accessories, with a reputation for innovative design. For more information, call: (800) 891-3100, email: info(at)crkt.com, on the web: http://www.crkt.com. ###