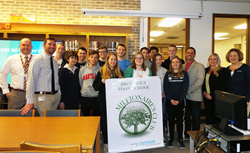 "The Millionaire's Club is just one example of the wonderful work we do together on behalf of our young people." Dr. Theresa Alban, FCPS Superintendent
Frederick, MD (PRWEB) March 28, 2017
In partnership with the Credit Union Foundation of MD/DC and Frederick County Public Schools, Nymeo Federal Credit Union is sponsoring the Millionaire's Club at Brunswick High School in Frederick County. The school is the first in the Frederick County Public School (FCPS) system to host this financial literacy club that is designed to actively teach students leadership and entrepreneurial skills. The Club also engages students in competitions such as "The Stock Market Game".
"We're proud to sponsor the first Millionaire's Club at Brunswick High School!" said Vicki Johnston, President and CEO of Nymeo. "This unique club teaches students how to manage finances in a fun and meaningful way. Providing this opportunity for students and FCPS is an extension of the service that Nymeo gives to the Frederick community."
The Millionaire's Club provides seed grants and a detailed curriculum, developed by the National Endowment for Financial Education.
"Nymeo's support for Frederick County Public Schools is outstanding. Our partnership is so important and valuable for our students, families, and the wider community," said Dr. Theresa Alban, FCPS Superintendent. "The Millionaire's Club is just one example of the wonderful work we do together on behalf of our young people."
Students elect their own leaders and actively participate in programs including an entrepreneurial project that allows them to put into practice their newfound skills to generate funds for the Club.
"I'm excited Brunswick has the privilege of partnering with Nymeo through the Millionaire's Club to give students an opportunity to gain real world insight into financial literacy," said John Yoho, Brunswick's Career and Technology teacher and the new Club adviser. "I think it's really important to give our students practical financial tools and understanding which could significantly impact their future."
High schools interested in providing the Millionaire's Club may contact Nymeo at marketing(at)nymeo(dot)org for more information.
# # #
About Nymeo
Nymeo is a federal credit union and a cooperative not-for-profit financial institution. Our mission is to promote each member's financial wellbeing. We are a one-stop financial center with a vast array of products and services to meet a member's need over their lifetime.
Membership at Nymeo is open to anyone who lives, works, worships, attends school or conducts regular business in Frederick County, Maryland. For more information about Nymeo, please visit us at nymeo.org.