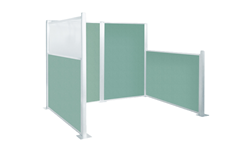 Versare's DIY cubicles provide Do It Best's clientele an easy, affordable office space solution.
Minneapolis, MN (PRWEB) March 29, 2017
Versare Solutions is announcing a partnership with Do it Best Corp. The portable partition manufacturer and retailer is a new vendor with the industrial/commercial distribution arm of the hardware company. Through this partnership, Versare can reach new clientele around the world, and Do it Best can directly offer their members the products they request.
Do it Best serves thousands of member-owned stores throughout the United States and 52 other countries. Do it Best Corp. offers clients an array of support programs, including employee training, retail computer systems, and retail store design concepts called "Do it Center®" or "Do it Best®." They also sell office workstation solutions. But until recently, they had yet to find the right vendor for cubicle systems.
After requests from their international members for cube walls, Do it Best turned to Versare Solutions, who specialize in space-saving room dividers, partition walls, cubicles, and sound panels for offices. Versare's Hush Panel Configurable Cubicle Partition system was appealing to Do it Best since it's tool-less slide-and-go construction provides an easy method for small businesses to implement workstations at a fraction of the time and cost of standard office cubicles. The affordable price point and premium construction makes these DIY cubicles an ideal choice for the large retailers roster of small business clientele. The configurable nature allows workstations to be added upon as companies grow in size. With a system of cubicles built with Hush Panels, offices can assure employee privacy while dampening sound.
Thanks to Do it Best, Versare can broaden its sales reach in the corporate and global arenas while still catering to small businesses, co-working spaces, schools, churches and other non-corporate entities.