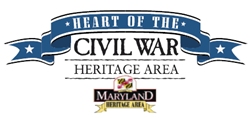 Frederick, Maryland (PRWEB) March 29, 2017
The Heart of the Civil War Heritage Area (HCWHA) will launch a second season of Porch Programs at the Newcomer House, HCWHA's Exhibit & Visitor Center at Antietam National Battlefield, on April 1. Visitors of all ages are invited to interact with experts on a variety of Civil War topics, ranging from first aid to family history. Exact times and other details will be posted on the Heart of the Civil War calendar of events, heartofthecivilwar.org/events.
2017 Porch Programs:

Saturday, April 1: From John Brown to James Brown with Ed Maliskas
Sunday, May 7: Marbles & Other Children's games with Art Staus & Tad Miller
Sunday, June 4: Jumpstart Your Family History with Chris Haugh
Saturday, July 1: Singer & Storyteller Matthew Dodd
Saturday, August 5: John Tidball with the South Mountain Artillery Crew
Saturday, September 16: Basic Battlefield First Aid & Contemporary First Aid
Saturday, October 7: Advances in Veterinary Medicine from the Civil War
Saturday, November 4: 19th Century Photography with John Milleker
Saturday, December 2: Newcomer House Illumination
The Newcomer House is located at 18422 Shepherdstown Pike in Keedysville, MD. On each of these days, the Newcomer House will be open from 11:00 AM to 5:00 PM. For more information, contact Newcomer House Manager Rachel Nichols at
rbknichols(at)gmail(dot)com or (240) 308-1740.
HCWHA is an independent 501c3 nonprofit organization that is one of 13 certified heritage areas in Maryland, encompassing parts of Carroll, Frederick and Washington counties. Its mission is to promote the stewardship of our historic, cultural, and natural Civil War resources; encourage superior visitor experiences; and stimulate tourism, economic prosperity, and educational development, thereby improving the quality of life in our community for the benefit of both residents and visitors.