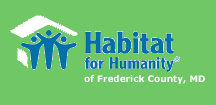 Frederick, Maryland (PRWEB) March 29, 2017
The Frederick Habitat for Humanity ReStore will open the doors to its new location at 917 N. East Street in Frederick on April 22nd. The store will officially open with brief remarks from Habitat's leadership at 9am, and then open for business with a Grand Opening celebration that will last through the day until closing time at 5pm.
"We're thrilled to be moving to this new location" remarked Ron Cramer, Executive Director of Habitat for Humanity of Frederick County, the organization which operates the ReStore. "It's an opportunity to better serve our shoppers, donors and volunteers, the ones who make the ReStore a success. We can't wait to celebrate this move with our Frederick community on our first day of business in the new space." The Grand Opening celebration will feature a variety of special attractions throughout the day including DIY demonstrations, face painting and family friendly activities, raffle prizes, live music, free food and a WFRE live broadcast featuring popular area radio personality, Dave Conrad, on site from 10am to 12pm.
The ReStore is open to the public and all are welcome to come tour the new store on East Street and shop in support of Habitat at the Grand Opening. Donations of goods will be received at the new ReStore starting on April 1st in order to fill the store for the opening. Donations will no longer be received at the old location on Market Street after that date. However, shoppers will be welcome at that site until April 15th, where they can take advantage of close-out sales starting on April 1st.
The ReStore, which emphasizes reusing, renewing and recycling goods, takes donations of overstocked, discontinued and used building materials, home improvement items, furnishings and accessories to resell. The revenue generated provides funding for the local Habitat affiliate. The new ReStore location is not only larger, but hosts improvements such as wider aisles, temperature control throughout, open floor plan design, sample rooms, and more. In addition to benefitting shoppers, donors and volunteers, the location is projected to increase revenue, providing a growth opportunity for Habitat to complete more projects in Frederick County for people in need of the strength, stability and self-reliance that comes with home ownership.
About Habitat for Humanity of Frederick County:
No matter who we are or where we come from, we all deserve to have a decent life. We deserve to feel strength and stability day after day. We deserve to know we have the power to take care of ourselves and build our own futures. At Habitat for Humanity, this is what unites us. Through shelter, we empower. Our shared vision is a world where everyone has a decent place to live. Because you, me, we - we're all humans. And every single one of us deserves the opportunity for a better future.
Mission: Seeking to put God's love into action, Habitat for Humanity brings people together to build homes, communities and hope.
About Habitat for Humanity of Frederick County ReStore:
The ReStore, proudly owned and operated by Habitat for Humanity of Frederick County, is a resale store for construction materials, furniture and home goods that is open to the public. Through the combined efforts of our shoppers, donors and volunteers, the ReStore provides important funding to Habitat for Humanity of Frederick County in order to help more homeowners in our community achieve the strength, stability and self-reliance they need to build better lives for themselves and their families.