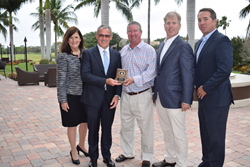 Boca Raton, FL (PRWEB) March 29, 2017
Editor's Note: Interviews available with BSC GM/COO John Crean, CCE And Mirimichi CEO Russ Britton; additional golf course images available upon request
Mirimichi Green Express, LLC that is co-owned by Entertainer and "Green" Golf Advocate Justin Timberlake and Russ Britton recognized Broken Sound Club (BSC) for its commitment and superior sustainability stewardship and strides with its inaugural Mirimichi Green Sustainable Program Member Award. In honor of Broken Sound Club's eco-leadership, Mirimichi announced its donation of 1,600 lbs of Mirimichi Green's environmentally driven CarbonizPN and four cases of Liquid Release soil products to City of Boca Raton for use as it deems for its public green spaces.
According to Mirimichi Green Chief Executive Officer Russ Britton, BSC -- a 5-Star Platinum Club of America -- was selected as the company's first award recipient because it serves as a defining "best practice" example of all that is dynamic and beneficial about leading golf course sustainability using Mirimichi's products. The Club uses Mirimichi soil, organic weed control and granular fertilizers that utilize bio-activated carbon, inoculated with high-nutrient organics that are designed for professionals who are committed to sustainable practices.
"Broken Sound Club is taking the golf industry in the right direction and exemplifying how natural and sustainable products can work better than the harsh alternatives," added Britton. "We thank Broken Sound Club for including Mirimichi Green products in its efforts. Keeping the environment as a priority in any maintenance program is what we are all about and that is why we, at Mirimichi Green, have presented this award."
While there are carbon products on the market, BSC Director of Golf Maintenance Shannon Easter says the Mirimichi products feature a higher-quality, much cleaner and porous carbon that holds water, air and nutrients that are effectively absorbed by our plants. "We have not only found Mirimichi's products to be of superior quality and benefit, but also they are affordably priced to support large golf course budgets, which in Broken Sound Club's case annually supports more than 250 acres of club greens and landscaping."
The Mirimichi award follows recognition of BSC's two Golf Environmental Organization (GEO) Certified Audubon Sanctuary Certified golf courses as the best Overall and National Private golf courses in the U.S. by the 2017 Environmental Leaders in Golf Awards (ELGA). The ELGA are presented annually by the Golf Course Superintendents Association of America (GCSAA) and Golf Digest in partnership with Syngenta and Rain Bird's Golf Division. BSC was the second golf facility in the U.S. (after the previous Timberlake family-owned Mirimichi Golf Course in Tennessee for which the company Mirimichi Green is named) and 14th in the world to be GEO Certified, the sustainability assurance of the Golf Environment Organization, an international non-profit dedicated to supporting sustainability in the sport of golf.
"We at Broken Sound Club are proud to receive this recognition on two levels," noted John Crean. " First, our program partnership with Mirimichi Green underscores our high-standard sustainability mission set by our board leadership, membership and golf maintenance team by delivering results beyond expectations. Second, that in Broken Sound Club's honor, Mirimichi Green has chosen to generously support our City of Boca Raton with superior product that can be used in our parks, along roadways and for City building landscaping.
"Broken Sound Club, which has been home to the PGA Champions Tour's season opener, the Allianz Championship since 2007, has taken an impressive, lead-by-example role in the golf industry by striving to make every step of its agronomic program sustainable," continued Britton. "Justin, our entire team and I are pleased that the respected golf and country club community of high eco-commitment and authority has chosen to continue its mission using Mirimichi environmentally friendly products that are designed to improve resource conservation while delivering outstanding performance and lasting benefits."
According to Britton, Mirimichi Green first noticed Broken Sound Club's sustainable efforts in March of 2014 and was "impressed by the Club's mindfulness of its community and surrounding environment". Mirimichi immediately recognized BSC's focus on integrated pest management, proper chemical and fertilizer practices, environmentally friendly landscaping, water conservation, water quality, energy conservation, pollution prevention, waste management, wildlife habitat conservation and enhancement, and the list goes on."
After meeting to discuss the benefits of Mirimichi Green's sustainable products and how they could benefit its program for BSC's two golf courses, it was clear that the two companies were a perfect fit. The products and the soil were first tested by BSC at The Old Course and a superior golf maintenance program was formed.
Broken Sound Club didn't stop with just improving their own program, they encourage and
educate others to do the same.
"To advocate for the importance of environmentally friendly golf course sustainability within our industry and throughout South Florida, we continually demonstrate our commitment to the environment, and our dedication to precise and effective natural resource and integrated pest management," reported Easter. "We speak at Homeowners Association and organization meetings, tour groups through our on-course bee hive and butterfly garden locations as well as our composter site. During the season, we lead a monthly Club membership educational program with topics designed to share our environmental programs with Club membership to inspire them to advocate and participate."
BSC is located at 2401 Willow Springs Drive, Boca Raton, FL. For Club membership, contact
Membership Director Maureen Schreiber at (561) 241-6800 or visit http://www.brokensoundclub.org.
About Broken Sound Club: Whatever one's passion or interest…their active enviable home life, business life, sporting life, and social life complement each other perfectly at BSC. Known as the "friendly" club for its signature blend of warmth, elegance and genuine hospitality, this award-winning private gated golf and country club community offers a choice of 27 lushly landscaped intimate residential villages, each with its own character. All are just minutes away from its main clubhouse with indoor/outdoor dining, two signature golf courses, a two-acre $6 million poolscape with bistro, a $7 million 35,000-square-foot spa and fitness center and 23 tennis courts. Close to two international airports and private Boca Raton Executive Airport, BSC is a few miles from pristine beaches, Boca's burgeoning Class A office parks, a vibrant Downtown, A-rated public and award-winning private schools, two universities, FAU Stadium, world-class shopping, dining, culture, recreation and nightlife.
About Mirimichi Green Express, LLC: Mirimichi Green Express, LLC offers products and services for large corporations, private enterprises or individuals striving to be cost-effective while being environmentally responsible. Our history is growing turf in poor soils. Our goal is to rebuild the soil and then curb the effort it takes to maintain professional landscapes. Using a life-cycle-cost approach, we have developed a series of industry-specific offerings that provide solutions, which are affordable, practical, and adhere to the quality associated with our brand.
Products and services are designed to uphold the following standards:

Be effective and sustainable
Help further the green transition
Offer a bridge to more responsible methods
Educate consumers
Help consumers set reasonable goals for their own sustainable practices
Make good quality sustainable products easily accessible to the average consumer
Offer a vehicle to give back to communities We have tailored programs for landscapers, developers, educational institutions, golf courses, government agencies, parks and recreation departments, equine farms, corporate sustainability initiatives, and others.
Programs provide innovative products, brand association, application guideline, customer/employee involvement, project recommendations, continuing education, customized products, professional support and experience, carbon credit calculations, channel of new products, marketing strategies and opportunities. Its qualified professionals help determine how we can assist with specific goals.
Mirimichi Green Express is headquartered at 418 Hermitage Rd., Castle Hayne, NC 28429. For more information call 910-602-1681 or email: info(at)mgpros(dot)com.