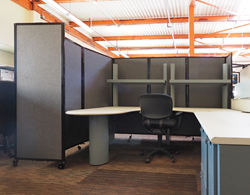 Each company strives to provide premium quality office furniture at affordable prices. It's a perfect match.
Minneapolis, MN (PRWEB) April 17, 2017
Versare Solutions, a manufacturer of office cubicles, partitions, room dividers, and acoustic panels, is collaborating with fellow Minneapolis company All Furniture, a wholesaler offering office furniture and moving services to clients on a budget.
Dion Schilling founded All Furniture in 1995 after working as a moving crew supervisor and then salesperson at Gazda Mayflower. Through word of mouth and referrals, All Furniture grew into a popular, cost-effective furniture store. Several of the store's customers are open offices in large open spaces, or they don't want to invest in expensive dividers and cubicle systems found in most offices.
Because All Furniture's customers often ask for alternatives to expensive industry standard cubicles and partition walls, Versare provided an affordable alternative. The company offers a premium selection of made-in-the-USA room dividers, cubicle walls, desktop partitions, sound panels, and other acoustical office furniture.
All Furniture features Versare's Hush Panel DIY cubicle system, StraightWall, and Room Divider 360 in their showroom. The Hush Panel is a tool-less and customizable cubicle partition system that comes in multiple color and material combinations, including options with a polycarbonate glass window. The StraightWall comes in portable, sliding and wall-mounted varieties, all of which create a completely straight wall after the individual panels slide into place. Versare's most popular option is the Room Divider 360, with 360-degree rotating hinges that allow for a variety of shapes.
Because Versare's products offer multiple configurations and combinations, All Furniture can offer an expanded, cohesive product line to. Their customers can order a complete, coordinating office plan from one location. And Versare has another space to showcase some of its best sellers.