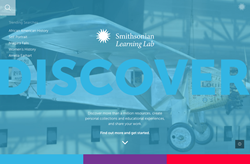 Washington, D.C. (PRWEB) March 29, 2017
The Smithsonian announced today its joint effort with Lenovo to foster STEAM (science, technology, engineering, art and math) learning in school and after-school programs using the Smithsonian Learning Lab, a free online toolkit to find, customize and share digital museum resources with others. Lenovo is a leading provider of innovative consumer, commercial and enterprise technology.
Lenovo is funding the development of six STEAM activities that combine resources in the Smithsonian Learning Lab with hands-on projects for educators and Lenovo employee volunteers to facilitate with students. The Smithsonian Center for Learning and Digital Access is designing the activities and a step-by-step facilitator's guide to accompany each one to support implementation in the classroom and after-school programs. The center will also create two virtual-reality education experiences for teachers to embed into their curriculum.
The collaboration kicks off Lenovo's first annual Global Week of Service project April 3-6, where more than 2,000 Lenovo employees in nearly 30 countries will participate in local community outreach efforts. In three North Carolina Research Triangle-region schools located near Lenovo's U.S.-based global headquarters in Morrisville, more than 130 Lenovo volunteers will lead the Smithsonian's STEAM activities. On Monday, April 3 and Thursday, April 6, more than 1,500 students ranging from elementary through middle school will participate in engaging Smithsonian Learning Lab projects that include: 

Sculptris: creating a 3-D model of an insect based on specimens from the Smithsonian's National Museum of Natural History
E-textiles: combining circuitry and fabric to create wearable tech
Wright Flight: learning the basic engineering skills used by the Wright brothers, followed by a digital test flight of a 3-D model of the original Wright Flyer from the Smithsonian's National Air and Space Museum
ArtBots: constructing an art-making robot using motors, batteries and whimsy
Botany Field Book: learning techniques inspired by a National Museum of Natural History botanical illustrator
CURIO: a trading-card game that challenges students to discover patterns and connections that inspire their own Smithsonian collection.
The North Carolina events follow a successful pilot earlier this year in which the center and Lenovo hosted a STEAM workshop featuring the Smithsonian Learning Lab for students served by the Marjorie S. Fisher Boys & Girls Club of West Palm Beach County in Florida, in partnership with the Boys & Girls Clubs of America.
The STEAM activities and facilitators' guides are available in the Smithsonian Learning Lab for anyone interested in replicating or adapting the lessons in their own school or in an after-school program.
About Smithsonian Institution
Since its founding in 1846, the Smithsonian Institution has been committed to inspiring generations through knowledge and discovery. The Smithsonian is the world's largest museum, education and research complex, consisting of 19 museums, the National Zoological Park and nine research facilities. There are 6,500 Smithsonian employees and 6,300 volunteers. There were 30 million visits to the Smithsonian in 2016. The total number of objects, works of art and specimens at the Smithsonian is estimated at 154 million, including more than 145 million specimens and artifacts at the National Museum of Natural History. http://www.smithsonian.org
# # #