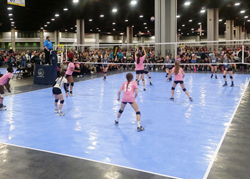 "SnapSports' 50/50 ShockTower is by far the best and easiest product that we have ever used to put down and to dismantle for a large event like Big South." - Randy Dagostino, Director Big South National Qualifier
Salt Lake City, Utah (PRWEB) March 29, 2017
The 2017 Big South National Qualifier Volleyball Tournament, set to take place at the Georgia World Congress Center March 31st –April 2nd, will put over 40 courts into play using SnapSports' 50-50 ShockTower surfacing. As one of twelve National Qualifiers, Big South will host 1406 teams playing on 200,000 square feet of 50-50 ShockTower. Elite girls volleyball teams, ages 12-18, will compete in the 3 day Stay & Play event with winners awarded bids in the USA Volleyball Girls Junior National Championship Divisions. Using SnapSports' surfacing for the third consecutive year, the Big South National Qualifier anticipates the most successful tournament to date.
"SnapSports' 50/50 ShockTower is by far the best and easiest product that we have ever used to put down and to dismantle for a large event like Big South. We were able to shave three hours off of tear down thanks to the SnapSports' system. The athletes love playing on it!" – Randy Dagostino, Director Big South National Qualifier
When choosing a volleyball surface, Big South National Qualifier officials were looking for something that was easy to put down and disassemble, but more importantly a surface with consistent ball play that would deliver the safest play for the thousands of elite athletes scheduled to compete on each surface. SnapSports' 50-50 ShockTower was the clear choice.
"SnapSports has consistently developed game changing sports products over the decades. We developed the ShockTower, an innovation greatly reducing the force sustained by athletes during aggressive play and eliminating the need for underlayment. We have now combined ShockTower Technology with the 50-50 sports surface, the industry's largest module. We have seen great success in both our domestic and international market with many demanding this superior flooring for their athletes to compete on." Jorgen Moller, CEO SnapSports
SnapSports' patented ShockTower technology is the industry's first and only modular sports flooring with built-in shock absorbers throughout, delivering an added level of "cush" to reduce impact on players joints and limbs. Combined with the 50-50™ ,the largest modular sports flooring system, which provides up to 70% less seams throughout the court, there is no better performance and safe play volleyball flooring available. The team at SnapSports has been engineering and manufacturing top performing modular athletic surfaces for almost four decades. SnapSports manufacturers in a 100,000 square foot ISO 9001:2008 quality certified facility in Salt Lake City, UT, and is supported by an authorized global network.