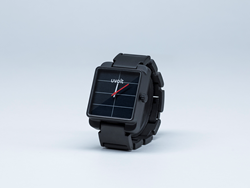 The Uvolt Watch is a simple approach to incorporating renewable energy into everyday life.
Montreal, Quebec (PRWEB) March 29, 2017
Today Uvolt launched a crowdfunding campaign for the Uvolt Watch, a sustainable, stylish wearable, and multifunctional power reserve that harvests solar energy. It is available on Kickstarter starting at the early bird price of $99 USD.
The Uvolt Watch is a mechanical design with precision timekeeping. It is equipped with a solar panel that passively captures energy from the sun and charges multiple hidden power reserved embedded within the design. It comes in four minimalist styles: black, white, silver and rose gold.
"In countries like Colombia, where I used to live, many people do not have access to electricity," said Uvolt Co-Founder Antony Diaz. "Sustainable energy is the key to making sure that everyone has access to essential modern services. Our hope is that the Uvolt Watch, and our future products, will help shift how people think about the sourcing and consumption of energy."
The solar panel covers the entire face of the watch, with a thin sheet of anti-reflective mineral glass that enhances its capacity. The main power reserve is a high density lithium-ion battery that is tucked out of sight beneath the case, and a custom circuit handles the electrical flow of the watch.
The main power reserve charges Android devices wirelessly and also has an integrated lightning port for Apple devices or micro-usb B and C for Android devices. The charging wire tucks inside the watch so it is virtually impossible to forget or lose. At the bottom of the power reserve sits the wireless receiver for inductive charging through the included dock.
To maximize capacity, the watch band is equipped with additional batteries that allow a second charge after the main power reserve has been depleted. Uvolt has developed a custom hinge for this purpose that enables the current to go back and forth within the body of the watch. When triggered, an LED indicator displays the battery level.
"Our hope is that we can encourage people to become pioneers of clean energy," said Uvolt Co-Founder, Marc-Antoine Bonin. "The Uvolt Watch is a simple approach to incorporating renewable energy into everyday life."
The Uvolt Watch campaign will run from March 29 - April 28, 2017, with an estimated delivery date of December 2017. For more information on the pledge levels, visit the Kickstarter page.
Media wishing to interview their personnel should contact PR agent, Allison Aitken at +1 (514) 703-4989.