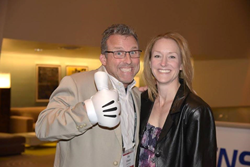 Manufacturers are one of our biggest markets, and we were excited when we found out about the Georgia Manufacturing Alliance.
Atlanta, Georgia (PRWEB) March 29, 2017
Marketing and promotional materials often get overlooked as part of the manufacturing community, but their importance is far reaching for this industry. From the materials, to the construction and distribution, the signage industry crosses all phases of manufacturing and FASTSIGNS of Snellville has aligned with the Georgia Manufacturing Alliance (GMA) as a Developer Sponsor to service the needs of this growing community in our state.
As the largest sign and visual communications franchisor in North America, FASTSIGNS continues to stay on top of a $29 billion industry. Founded in 1985, they are focused on an ever-evolving industry, and while other sign and graphic businesses are defensively adapting, they have 650+ locations in 9 countries all over the world.
"Manufacturers are one of our biggest markets, and we were excited when we found out about the Georgia Manufacturing Alliance," said Ed MacFarlane, co-owner of FASTSIGNS of Snellville. "Our sponsorship will be a great opportunity for us to help the manufacturing community increase their branding and help them with their signage and marketing needs."
Ed and Kareen MacFarlane were interested in becoming a FASTSIGNS franchisee after watching an episode of the TV show Undercover Boss. Undercover Boss is a television franchise series that features the experiences of senior executives working undercover in their own companies to investigate how their firms really work and to identify how they can be improved, as well as to reward hard-working employees.
The MacFarlanes knew with their 20+ year background in mass media communications, printing, and graphic design that a FASTSIGN franchise platform was the perfect business fit and became owners in 2013. Their FASTSIGNS Snellville location is one of the fastest growing franchises in Georgia, and they have exceeded their sales goals and added new sales reps each year.
"We are very excited to have Ed & Kareen MacFarlane and the FASTSIGNS team on board at the Developer Sponsor level," said Jason Moss, CEO of the Georgia Manufacturing Alliance. "They are offering a valuable service to our members, and will be a tremendous asset as we move towards our largest event of the year, the Georgia Manufacturing Summit. Our Summit will be held October 25th at the Cobb Galleria and will focus on the people, plants, and products that help create a vibrant manufacturing environment in our state."
This year's Summit is expected to attract over 500 industry professionals from across the state and will be focused on the Food & Beverage Industry. It is Georgia's manufacturing event of the year, and allows attendees to make face-to-face connections with other manufacturers, customers, and suppliers. Last year's event had 26 of the top industry leaders provide an educational forum to discuss best business practices, supply chain trends, health & safety, workforce development, and how to develop a better bottom line.
About the Georgia Manufacturing Alliance:
The Georgia Manufacturing Alliance (GMA) is a professional organization founded in 2008 to support Georgia's manufacturing community. GMA provides monthly plant tours, educational sessions, tradeshows, and unique networking opportunities designed to help make profitable business connections for its members. The Georgia Manufacturing Directory, Georgia Manufacturing Summit, and Georgia Manufacturing Calendar are additional resources produced by GMA. To learn more about the organization, membership, and upcoming events, please call 770-338-0051 or visit their website http://www.GeorgiaManufacturingAlliance.com