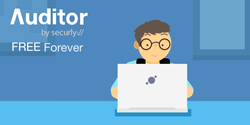 San Jose, California (PRWEB) March 28, 2017
In just under two weeks, "Auditor by Securly" – a free tool that helps schools detect signs of bullying and self-harm on Google Mail – has already reached impressive milestones.
At this time, Auditor scans over 500,000 emails per day with 200 school districts served. Auditor also now sends out over 100 alerts per day – proof that it is an effective zero-cost solution for K-12 admins who seek to have their students use 21st-century tools while guaranteeing their safety.
Securly launched Auditor this March to help schools ensure the safety of their students by monitoring GMail for messages that are indicative of bullying or self-harm.
With G-Suite products becoming instructional tools of choice in K-12 education and with students "living" in Google Drive and Gmail for their classwork, these tools have augmented Facebook and Twitter as media to perpetuate bullying and declarations of self-harm. They are, however, not policed by traditional web-filtering solutions.
Keeping Auditor free forever is Securly's commitment the company's mission of ubiquitous and affordable student safety.
Securly
Securly is a venture-backed, fast-growth Silicon Valley startup. We are the leading provider of cloud-based web filters for schools with a presence in thousands of schools across the US, Europe, and Asia Pacific region.
Beyond school web-filtering, Securly also enables parents to engage in the online safety of their kids by providing the parents - for free - parental controls on school-issued devices, emergency notifications on flagged disturbing activities, and weekly activity reports. Parents can also customize policies to reflect their parenting styles, such as setting time limits on Chromebooks and iPads.