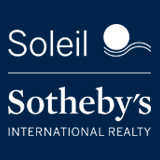 Brigantine, New Jersey (PRWEB) March 29, 2017
In the face of steep competition and a still-improving national real estate market, Soleil Sotheby's International Realty firm is commending 12 of its agents who were recently recognized by New Jersey Realtors as part of its 2016 "Circle of Excellence" award.
The awards, which are divided between four tiers that can climb beyond $20 million in earnings, were announced on Feb. 7, 2017. The Soleil Sotheby's agents who were recognized are as follows:

Platinum: Ashley Franchini as well as Tony Rosenzweig and Phyllis Scherr.
Gold: Lawrence Stone and Anthony Marotta.
Bronze: Ian Bloch, Catherine Burke, David Campbell, Maria Gatta, David Sacks, Stacy Scherr, Mark Seubert and Ricardo Yumiseba.
To qualify for the above categories, platinum-level honorees are expected to earn $20 million across a minimum of 30 units or market 125 units total. For gold-level recipients, a Realtor must successfully market $12 million and at least 25 units or 90 units total. For bronze award winners, a real estate agent is expected to earn $2.5 million in sales and at least 15 units or at least 30 units total.
New Jersey Realtors is an extension of the National Association of Realtors, which is a 1.1 million member-strong organization. New Jersey Realtors aims to assist agents and affiliated organizations with property promotion, service development and more.
Soleil Sotheby's has offices in both Brigantine and Margate City, New Jersey. For additional information, contact Katie Kustanbauter at 609-487-8000 or email: kkustanbauter(at)soleilsir.com.
About: Soleil Sotheby's International Realty is a division of the world-class auction house whose real estate arm boasts 5,000 offices across 40 countries. Soleil Sotheby's markets new constructions, hosts open houses and is an experienced seller of real estate across five South Jersey shore towns.