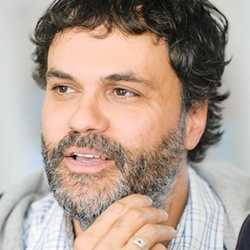 MDIFF board president, Tom Riford, said "Ed Sanchez is one of the most talented and prolific filmmakers of today. We are honored to give him this prestigious award."
Hagerstown, MD (PRWEB) March 29, 2017
The 6th Annual Maryland International Film Festival-Hagerstown (MDIFF) opening night festivities take place on Friday March 31st, 2017 at the Kepler Theater at Hagerstown Community College. The film festival annually bestows two significant awards. This year's Nora Roberts Foundation Award will be awarded to Maryland filmmaker Eduardo Sanchez.
According to Maryland International Film Festival-Hagerstown board of directors president, Tom Riford, "Ed Sanchez is one of the most talented and prolific filmmakers of today. He lives in Western Maryland, and has made several famous films, including The Blair Witch Project." Riford said that the award is giving annually to a person from Maryland or the local region, who has made significant contributions to the film industry.
The Friday March 31st Red Carpet opening night begins with a special VIP reception at 5:30pm, followed by the opening night celebrations, awards, and introduction of special films.
About Ed Sanchez: born Eduardo Miguel Sánchez-Quiros (December 20, 1968). Sanchez is a Cuban-born American director, most famous for co-directing and writing the 1999 psychological horror The Blair Witch Project with Daniel Myrick. Sánchez moved to Spain with his family at the age of two, before settling in the United States in 1972. He studied television production at Montgomery College in Maryland and obtained his B.A. degree from the University of Central Florida Film Department where he studied with Dr. Mary C. Johnson and Dr. Charles Harpole. In 1999, Sánchez was joint-recipient of the inaugural Independent Spirit John Cassavetes Award. He is married to the former Stefanie De Cassan and lives with her and their children, Bianca, Lucas and Lennon, and Kenny Powers in Frederick County, Maryland.
As a director, some of his films include:
The Blair Witch Project (1999)
Altered (2006)
Seventh Moon (2008)
Lovely Molly (2012) – Filmed in Hagerstown-Washington County, Maryland
Exists (2014)
Maulers (TBC)
Griffin's Ghost (TBC)
His Television projects include:
Intruders (2014)
Short films:
ParaAbnormal (2009) (web TV with Jamie Nash)
V/H/S/2 (Segment: A Ride in the Park) (2013)
Four Corners of Fear (2013) (web TV)
Sanchez, one of the leaders of Haxan Films, is one of the hardest working directors in the film industry. "Ed Sanchez is always working, and is internationally known in the industry as a horror-movie specialist. When he shot Lovely Molly in Hagerstown, it was a huge shot in the arm for our local economy," Riford said.
Ed Sanchez is a writer, director, and producer, and importantly a mentor for new people coming into the film industry. "The Blair Witch Project is a truly historic example of a small budget, independent film that made over $250-million," said MDIFF executive director Tracie Hovey. Sanchez carved out a niche for himself, and Haxan Films is the benchmark for high return on investment projects. His efforts are legendary, and he is respected around the world."
Last year's Nora Roberts Foundation Award Winner was Scott Gardenhour, the executive producer of "13 Hours: Secret Soldiers of Benghazi." Gardenhour is originally from Smithsburg, Maryland.
For more information about the Maryland International Film Festival-Hagerstown, see: http://www.marylandiff.com.
###