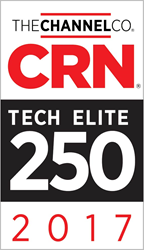 "Comport Consulting is pleased to be selected as one of the top technology experts in the nation." stated Mike Vencel, Executive Vice President, Comport Consulting
Ramsey, NJ (PRWEB) March 29, 2017
Comport Consulting, a leading data center solution provider, announced today that they have been named by CRN to the industry's prestigious annual 2017 Tech Elite 250 list. Comport is honored along with an exclusive group of IT solution providers that have earned advanced technical certifications from leading technology vendors. Comport has been recognized as a member of the TechElite 250 each year since the award's inception, for its deep data center expertise including transformational technologies such as Hyper Converged, Software Defined-Data Centers, Composable and Cloud Infrastructures.
To compile the annual list, CRN identifies the top customer-beneficial technical certifications as well as IT and data center solution providers that have obtained the elite designations. These certifications, which require a large commitment and investment in training its solution architects, enable Comport to deliver premium products and services to assist customers as they move from traditional IT to newer, more efficient operations.
"This exclusive, ambitious group of solution providers boasts some of the most advanced IT certifications available from top technology suppliers," said Robert Faletra, CEO, The Channel Company. "They have adapted impressively to major changes in the IT channel, especially the shift to a more services-driven market, by expanding their skill sets and sharpening both their technical and customer service expertise. Congratulations to our 2017 list, whose robust investment in their organizations has earned them yet another elite designation—the CRN Tech Elite 250."
"Comport Consulting is pleased to be selected as one of the top technology experts in the nation," stated Mike Vencel, Executive VP, Comport. "Organizations today struggle to reduce IT costs and at the same time transform to competitive, digital businesses. Our expertise in cloud and mobile-enabled, software-defined data centers is complimented by our new BaaS and DRaaS managed services for Veeam. We are ready and able to deliver solutions for our customers' toughest challenges."
Coverage of the Tech Elite 250 will be featured in the April issue of CRN, and online at http://www.crn.com/techelite250.
About Comport Consulting
Comport helps commercial and hospital clients create a modernized IT vision to support today's business needs and budgets. Offerings include data management and protection, cloud, virtualization and converged infrastructures supported with managed services, assessments, and best-in-class partnerships. An award-winning, Platinum partner of Hewlett Packard Enterprise, Comport is a true data center solution provider that invests in clients to achieve the organization's goals and maximize return on their IT investments.
For more information see http://www.comport.com.
About The Channel Company
The Channel Company enables breakthrough IT channel performance with our dominant media, engaging events, expert consulting and education, and innovative marketing services and platforms. As the channel catalyst, we connect and empower technology suppliers, solution providers and end users. Backed by more than 30 years of unequaled channel experience, we draw from our deep knowledge to envision innovative new solutions for ever-evolving challenges in the technology marketplace. http://www.thechannelco.com
Copyright ©2017. The Channel Company, LLC. CRN is a registered trademark of The Channel Company, LLC. All rights reserved.
The Channel Company Contact:
Melanie Turpin
The Channel Company
(508) 416-1195
mturpin(at)thechannelco.com