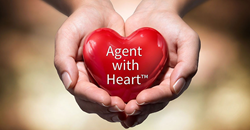 Home Buyers and Sellers… Work with an agent that gives back to the community.
Yorba Linda, CA (PRWEB) March 29, 2017
Realty Times and PinRaise announced a new partnership to promote the Agent with Heart movement.
Under the Agent with Heart program, real estate agents and brokers who join the Agent with Heart network agree to donate a portion of their commission to the nonprofit of their client's choice after closing a transaction.
"We're excited to get behind the Agent with Heart movement," said Realty Times President Chris Warrick. "We believe that most local real estate professionals strive to make a difference in their neighborhood, and the Agent with Heart program gives them a way to do this in a way that's both easy and impactful."
"There are so many local nonprofits that are in dire need of sustainable donations, and this program provides the means to do that," says Mr. John Giaimo, President of PinRaise. "Research indicates very clearly that people like to do business with people who care, and nothing demonstrates that more than an Agent with Heart," Giaimo concludes.
Under the partnership, agents who join will be promoted on both RealtyTimes.com and PinRaise.com, and will receive a marketing kit that includes trademarked logos, digital assets, listing presentation inserts, social media materials, a press release template, a beautiful lapel pin and more.
Agents who subscribe to the Realty Times custom newsletter will have the opportunity to feature their Agent with Heart designation on their digital masthead. With the expanded distribution, it provides homebuyers and sellers even more ways to find an Agent with Heart.
About Realty Times: Realty Times is one of the world's most viewed news portals for real estate, attracting a national and global audience of homebuyers, sellers, consumers, real estate professionals and ancillary businesses. Its market condition reports, consumer advice, market outlooks, listings other content are updated daily, providing crucial and timely real estate news. For more information, please visit RealtyTimes.com.
About PinRaise: The PinRaise app connects consumers with local businesses who agree to donate a small percentage or fixed dollar amount to the nonprofit of the buyer's choice, providing recurring revenue for the nonprofit, a differentiator for the local business or real estate professional, and a feel-good story for the consumer. PinRaise is a member of the Association of Fundraising Professionals. You can download PinRaise at the App Store or Google® play. For more information, please visit http://www.PinRaise.com/agents.