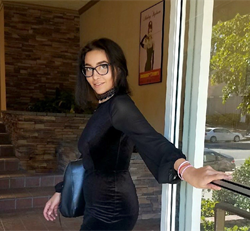 The obituary celebrates Mr. Hayden's participation in, and love for Alcoholics Anonymous."
Studio City, CA (PRWEB) March 30, 2017
"We are indeed fortunate to have Ms. Ghazal," said Leonard Buschel, CEO of Writers In Treatment publisher of the Addiction/Recovery eBulletin.
"We are in a period of extensive growth and increased national and international recognition. Yara's professional knowledge of the addiction/recovery field, experience working with high-risk opioid and other substance-dependent populations, and award-winning recognition for exceptional customer service and academic excellence make her the perfect addition to the team."
"She also played an instrumental role in the Tom Hayden tribute obituary article, published in the most recent eBulletin edition. The article celebrates Mr. Hayden's participation in, and love for Alcoholics Anonymous."
Along with her responsibilities as Director of Operations, Buschel anticipates that Ms. Ghazal, with her banking experience, will be making significant contributions to the REEL Recovery Film Festival franchise, and the Experience, Strength and Hope Awards, held annually in Los Angeles.
"We anticipate great things from Ms. Ghazal and celebrate the talents and expertise she brings to our diverse projects."
Ms. Ghazal earned her BA from San José State University. Her previous experience related to addiction/recovery includes work as a Substance Abuse Counselor and Caseload Manager at an outpatient facility in Modesto, California. Ms. Ghazal is fluent in English, Arabic, and Spanish.
Among her personal hobbies are traveling, writing, singing, and wit.