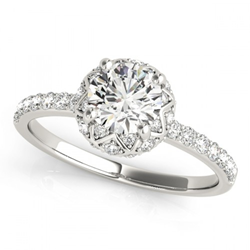 "Buying an engagement ring is an experience, not a simple transaction." Nadya Geneizer, President and co-founder, Brilliant Canary.
Nashville, Tn (PRWEB) March 30, 2017
Brilliant Canary, the brainchild of Nashville-based Nadya Geneizer, President and co-founder of the company, may be a new entrant to the diamond industry, but the brand is as polished as its diamonds. This dynamic new name in jewelry has seen a rapid rise in business, despite stiff competition from global, local and online retailers. The key to its success lies in its innovative experiential marketing strategy which smartly meets the needs of new age buyers.
Unlike many vendors, Brilliant Canary sells GIA certified diamonds online at competitive prices. Brilliant Canary's jewelry is designed in the USA and every diamond ordered is inspected by a GIA certified gemologist.
Representatives work with each client to determine his/her individual needs in order to suggest the best personalized options.
Commenting on her innovative business approach, Nadya Geneizer, President and co-founder of BC, said, "Buying an engagement ring is an experience, not a simple transaction. For that matter, every single piece of jewelry has some significance attached to it. We just want to preserve the value and the importance of the moment for our buyers. Although we have very competitive prices, it isn't just about price. We make that experience amazing by taking a personal approach."
Brilliant Canary's merchandizing and digital selling models combine different strategies which are designed to give the retailer a competitive edge in a market dominated by traditional brick and mortar companies. In March, the retailer has implemented a series of initiatives to meet the demands of its growing user base:

On Friday March 31st, Brilliant Canary ran their first successful Facebook Live sale where their followers were able to see jewelry live, ask questions and place a bid for their preferred piece of jewelry.
Customers can now buy jewelry via the online chat available on http://www.brilliantcanary.com.
Brilliant Canary customers can find, browse and buy products directly from social media channels.
When buying from Brilliant Canary, each customer can choose from a list of charities (St. Jude Children's Research Hospital, Wounded Warrior Project, and Susan G. Komen for the Cure) where a portion of the profits from every purchase will be donated.
In March, the retailer has also announced a new business initiative which provides new and exciting experiential buying options to its customers. Users can now shop for custom made jewelry on http://www.BrilliantCanary.com.
Nadya Geneizer, President and co-founder of BC, said: "We're seeing demand from our customers for unique, one of a kind jewelry. In an age of mass production, couples want to show their love and affection for each other through products that are custom made and tailored to their preferences, desires and personal styles.
Brilliant Canary was formed with the customer in mind and we are pleased to announce our new custom made product line to serve our loyal customers and to reach new buyers." Each product is 100% unique and once sold it will never be listed again.
About Brilliant Canary
Brilliant Canary is an online jewelry retailer specialized in GIA-certified diamonds and fine jewelry.
Sophisticated, chic and beautifully crafted, Brilliant Canary jewelry is designed and manufactured in the US, ensuring our customers receive first-class quality at an exceptional price. All Brilliant Canary diamonds are conflict-free, with a portion of the proceeds going towards some of today's most important charities.
Each Brilliant Canary purchase is customizable and risk-free, with a lifetime warranty and 100% money-back guarantee. Visit us today and go Beyond Brilliant.
For further information, contact:
Codrin Arsene, 773-301-6840 codrin.arsene(at)brilliantcanary(dot)com