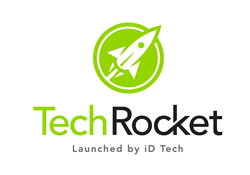 CAMPBELL, Calif. (PRWEB) March 29, 2017
Personalized instruction is one of the key factors leading iD Tech to be the #1 tech camp and a leader in STEM education in the United States. For the last 18 years, camp instructors have come from tech programs at the nation's most prestigious universities and technical schools.
"About a third of our instructors return each summer, continuing to build relationships with the students who come back," says Robby Little, National Director of Operations for iD Tech. "We train our camp instructors to act like mentors and create the most incredible learning environment."
Tech Rocket, iD Tech's online learning destination where kids and teens learn code, game design, and graphic design, is now recruiting from that pool of well-trained summer instructors to offer live online tutoring all year long. One-on-one video tutoring is the perfect year-round entry point for any student interested in STEM education, as students work with tutors to build a customized learning path.
Tech Rocket has already seen how personal interaction can increase student comprehension and overall success. In 2015, the company introduced Live Coaches, who are available to answer questions in real-time and support the student forums, and completions went up 47% from the previous year. Adding tutors to the success of Live Coaches has provided even more specialized options for aspiring coders and game designers.
"Our tutors have already received a great response from parents, and any student that has attended two or more sessions has continued with the service," says Kody Beaver, Product Support Specialist for Tech Rocket. "Parents tell me how inspired their child leaves their session, how they look forward to the next session all week, and how we make students feel seen, understood, and successful."
Students can sign up for one-hour appointments Monday–Friday, 8am–7pm PT, with weekend availability coming this summer. The standard session rate is $50 per hour. To learn more about Tech Rocket and tutoring, visit techrocket.com.
About Tech Rocket
Tech Rocket is an online STEM learning destination where students ages 10–18 can take self-paced courses in coding, game design, and graphic design. All courses are supported by Live Coaches to help students along the way. Live online tutors are also available to provide kids and teens with year-round learning on their long-term STEM pathway. Learn more at techrocket.com.
About iD Tech
iD Tech is the leader in summer STEM education programs for students ages 6–18. Over 275,000 students have attended iD Tech since 1999. Camps are held at over 150 prestigious campuses in the United States, including Stanford, MIT, Harvard, and many others. In addition to iD Tech Camps for ages 7–17, iD Tech also offers early-education STEM programs, all-girls tech camps, teen-only academies, and an online learning platform. Learn more at iDTech.com.