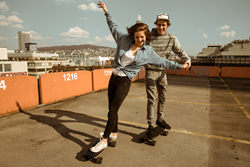 (PRWEB) March 28, 2017
Improve your urban commute or have fun surfing the pavement with So Flow's NEW Lou Board. Combining a hidden battery and motorized wheels, Lou delivers speed, range, reliability and portability. Not only is Lou's award winning design beautiful, but is just days away from its debut on Kickstarter.
Designed by an international crew of tech lovers, passionate skaters and e-mobility experts, Lou was crafted with Swiss quality and engineered to deliver the best possible ride on the market. On a mission to revolutionize the world of skateboarding and transportation, So Flow created an easy to ride, reliable, sturdy board that is also fast and powerful. Because of Lou's light weight, it's easy to take on public transportation and stow away at work. Plus, Lou has interchangeable deck plates and replaceable motorized wheels, giving it a great look and a long life.
Here's why Lou is a sure thing…

WATER RESISTANT - Lou will weather the storm with you.
RED DOT DESIGN AWARD - Don't worry, Lou doesn't let it go to her head.
INTERCHANGEABLE DECK PLATES - Lou will help you get a grip.
SMARTPHONE APP - Just don't forget to text Lou back.
REPLACEABLE WHEELS - Lou will always look and ride like new.
PORTABLE - Lou is light and easy to carry.
SLEEK - Lou's battery is hidden in her stylishly sculpted physique.
LONG LASTING POWER - You can charge Lou's battery for two hours and keep coasting for up to 15km.
LIGHTWEIGHT YET DURABLE - Lou's built to last. Check out that Carbon Fiber bod.
Last but certainly not least, Lou's really got it all.
Recharge your life with So Flow's NEW Lou Board – the lightest, fastest, most maneuverable electric board to date!
The Kickstarter campaign for the Lou Electric Skateboard will run from April 13 to May 28 with the ultimate goal of raising $80,000 towards production costs. Backers will receive rewards based on their level of commitment to the campaign.
https://youtu.be/3_4lvGuSYVI - Teaser
Follow them:
Facebook - https://www.facebook.com/SoFlow-1570617359619448/
Instagram - https://www.instagram.com/soflowofficial/
###
Sarah Brodersen
Senior Public Relations Account Executive
ChicExecs Brand Development
820 Los Vallecitos Blvd. Ste A-C
San Marcos, CA, 92069
T: 760.429.6702
C: 310.210.0841
sarah(at)chicexecs(dot)com