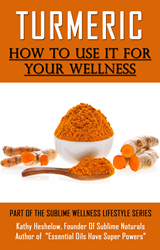 The new ebook about Turmeric is part of the Sublime Wellness Lifestyle Series (#1), books that specialize on one subject at a time in an easy-to- read length, format and language.
St. Petersburg, FL (PRWEB) March 29, 2017
The new ebook about Turmeric, entitled "Turmeric: How to Use it for Your Wellness. Overcome Inflammation, Enemy of Your Body", is now available on Amazon. The book will be free on Wednesday and Thursday, 29th and 30th of March, for its launch.
A free audio book download is also currently available on the inside of the book.
"The book examines what Turmeric is, what it can do, some medical and clinical tests, and how to use it in your daily life - including some recipes," says Kathy Heshelow, author and founder of Sublime Naturals and Zen Box. "This is a shorter, easy read for time-challenged people - and frankly, that is most people today! The book gets to the point!"
Turmeric has long been recognized for its strong and natural anti-inflammatory powers. It can be helpful for those suffering from or trying to be proactive with inflammatory diseases such as arthritis or rheumatoid arthritis. But, the book reveals, it is showing interesting results in a number of other areas, such as colon health and brain health.
Pick up the book today.
ABOUT: Kathy Heshelow has written a number of books over the years in two areas of specialization: wellness / beauty and passive commercial real estate investing (NNN). Her book "Essential Oils Have Super Powers" is also being made into a series of books on Kindle, to be appear in April.
She is now in the process of publishing a series of books on wellness, including on the subjects of the immune system, essential oils and detoxing the body. Her new book on tax deferral and passive income is also due in April. She is founder of Sublime Naturals, where interested parties can buy organic Turmeric products and essential oils.